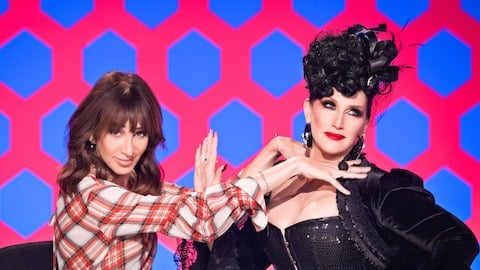 Finally! We have some answers to the age-old question: Whatever happened to Merle Ginsberg?
Wait, that's not the question anyone cares about. All anyone cares about is WHEN ARE WE GETTING TO SEE SNATCH GAME? Lucky, for us, we got an answer to that question, too. (Next week!)
In the meantime, let's check in with ol' Merle to see what happened behind the Ru-sic
Tonight's episode kicked off with my favorite kind of mini-challenge. It's one of the ones where the Pit Crew calls in the Pit Crew Reserves to come out in their itty bitty briefs. This time, instead of Hungman or 'Whatchu Packin'?', we're looking for who has a monster tucked in the front of their undies.
Continued, AFTER THE JUMP …
One at a time, the girls would call on more and more mens, each with a point value written on a disc tucked in their junk. They would keep amassing points until they pick a guy with a monster disc. (If it sounds overly complicated, that's because it was.)
Then, the main challenge was YET ANOTHER group acting task. The ladies were split in groups of three to portray Michelle Visage, Merle and Ru. Each team would depict the same scene from each one of their perspectives. Then, those vignettes would be edited together into a True Hollywood Story-style video. Guest judges were Merle herself and human Sanrio character Ariana Grande.
So how'd they do? Let's discuss the rankings: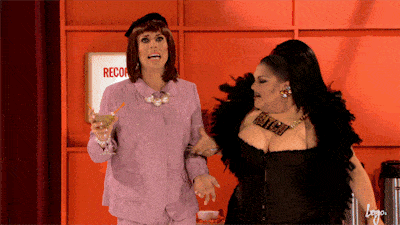 1. It's getting a little boring here at the top of the rankings with Ginger getting so comfortable. Her performance in the challenge was great, and her look on the runway was dazzling and creative. No slight to Katya, but she outperformed and out-dressed tonight's winner. I guess the judges can't just hand her the crown now.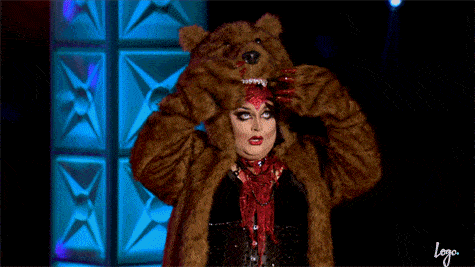 2. My love for Ginger Minj aside, I still place Katya toward the top of our pack. She's clearly got a quick wit that revealed itself not only in her shark attack-themed runway look, but also in her confessional interviews. Her line during the mini-challenge ("I have no idea what the rules of this game are. I don't care what they are. Just, when do I get to blow them?") may have given me the biggest laugh of the season so far.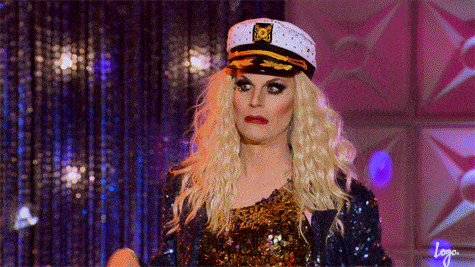 3. The middle of the pack is a bit of a mixed bag, with Pearl, Violet, Max and Fame all neck and neck (or tuck and tuck, as the case may be). I thought Pearl really stepped it up this week, and (unlike Max) her star is on the rise.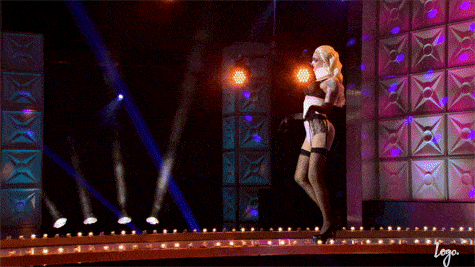 4. I'm still warming to Violet Chachki. She was fine as Michelle Visage, but her runway look was a showstopper on par with Courtney Act's wings. She's been talking about that waist for a while, but it was worth it to see it deployed so expertly in just the right context.
5. And then there's Max. She's won a few challenges, but she always seems just a little bit off. Plus, her Victorian attitudes about sex are a real turnoff. Now that she's on Michelle Visage's bad side, her days appear numbered. Visage's rage aside, I thought her runway look was pretty gorgeous. Had she not been serving us glamour ghost realness all season, it would have  had a bigger impact.
6. Oh, Miss Fame. You've got so much potential, but you just seem, I don't know, not that bright? The fact she keeps missing the "How's your head?" set-up makes me groan. There's a likability gap that I'm not sure Fame will be able to cross in time for the end of the season.
7. Jaidynn is not going to win season 7 of RuPaul's Drag Race, let's be honest. She won most busted drag queen at the DESPY Awards for a reason. Again, she flubbed her lines during the main challenge, but I sort of loved her runway look. It wasn't beautiful, but at least it was thought through. I will say that her story about her relationship with her mother was touching, and not the kind of thing we're used to seeing. We've heard from contestants that left home because their parents didn't accept them, but I don't think we've got the sort of deep connection and deep cycle of hurt that Jaidynn expressed tonight. It was heartbreaking.
8. Kennedy, gurl. Queen got lucky in Ginger and Katya's group tonight, but her portrayal of Mama Ru was nearly criminal. Then, she had easily the worst runway look of the night. Had Ginger and Katya not carried her to safety, she would have deservedly landed in the bottom two for sure.
9. Bye, Felicia Kandy Ho. It was long overdue, and that RuPaul wig was utterly unforgivable.
How would you rank the queens this week? Who do you think they'll be portraying in next week's Snatch Game?