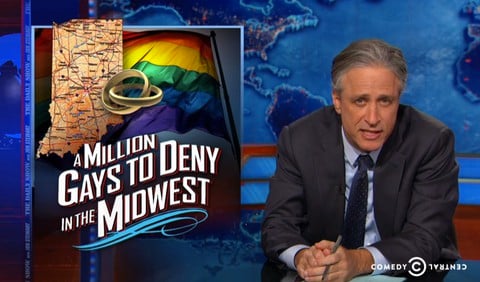 Jon Stewart finally took a look at the bigoted goings-on in Indiana last week and the news bytes featuring various wingnuts surrounding it, particularly those who compared gay loving couples to a hate group.
It's been a while since I've taken the SATs but I believe the formulation as you defend yourselves sas this. This couple (photo of lesbian couple Del Martin and Phyllis Lyon) is to Christian business as these folks (shows photo of KKK members) are to everyone else. 'I'm not discriminating. I have nothing against gay people. I'm just saying that to Christians, catering an elderly lesbian wedding is like making a Jew slow-dance with Hitler. That's all I'm saying.' Do you see how f–ked up that is???"
Finally, Stewart took a look at the motherlode of cash ($842,000+) Memories Pizza received in a GoFundMe campaign after they announced they would refuse to cater a gay wedding.
Daily Show senior correspondent Jordan Klepper went to Indiana and he's going to open a few businesses there – Recollections Pizza, and Deja Vu Meatballs. He's looking to cash in on the bigotry!
Watch, AFTER THE JUMP…