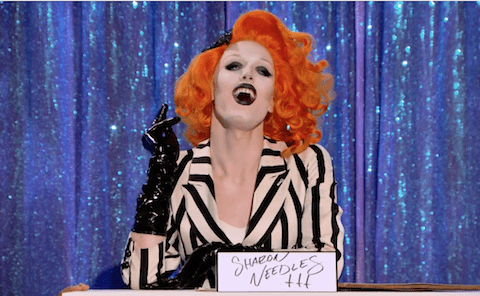 It's Snatch Game! The challenge that separates the boys from the ladyboys. This season's Snatch was one of the most pleasantly surprising of all time. Given how lackluster the season seven queens have been appearing after a few grueling weeks of painful group acting challenges, we actually got to see what happens when the ladies had to step it up and turn it out on their own. The result was one of the most all-around well-performed Snatch Games, with even the worst queens still turning out mediocre performances and no real trainwrecks.
Tonight's lucky guest judges are Tamar Braxton and the adorable Michael Urie. Let's dish about who did who and how did they do, AFTER THE JUMP …
Before we get to the rankings, can we talk about Ru's look on the runway? It looked like she stuck a giant Fruit Roll Up on an otherwise decent gown. A rare miss for Mama Ru.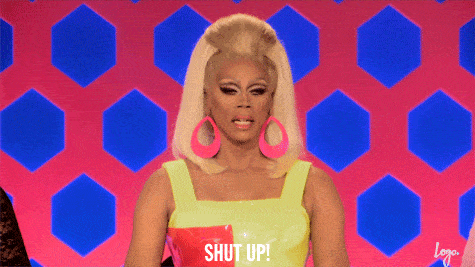 OK, OK! Onto this week's rankings:
1. I'm getting a little bored with how well Ginger Minj is doing. Once again, she was great. Her Adele was a Snatch Game exemplar. Of course she nailed the look, but she also took someone who is not actually that funny in real life and then created a whole character around her. The runway look was a little more cheese than chic for Ms. Minj, but her Elvis Priss-ley concept was yet another example of Ginger's thoughtful approach to everything she does. At this point, it's unlikely she'll miss the mark in a challenge, so, if she does get the ol' heave ho, it'd be because the judges start to find her cold, calculating or (as some commenters have pointed out, thanks to her behavior on Untucked) unlikable.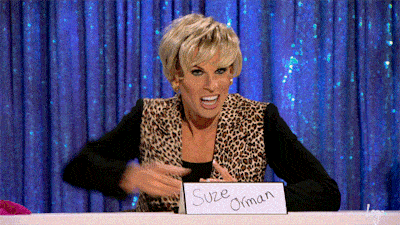 2. If the rules of reality TV editing hold true, Katya could go far in this competition. Tonight, she got a nice side story about her struggle with addiction. That endeared her a bit more to me, and she continues to be my favorite source of hilarious interview cutaways. I'd give her Suze Orman a B-. The bits she clearly had in the can ahead of time landed well, but she didn't feed off the live energy coming off the other girls as much as I think she should have. Her look on the runway was also not quite a total hit. The garment was terrifically tacky, but that wig. Ooh, that wig. That was a shake-and-go Duane Reade Halloween wig if I've ever seen one.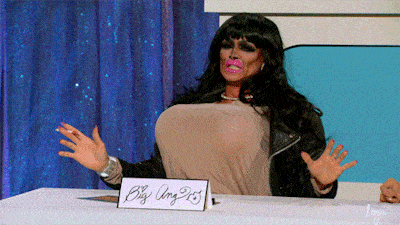 3. Huzzah! Pearl is back. Her Big Ang was a great choice and she played it expertly. It's easy to take a big character like Ang and think it'll do all the work (remember Jiggly Caliente's god awful Snooki?), but Pearl worked the schtick into the game and fired back zingers with ease.
4. I was ready to help Kennedy pack her bags when she first said she was going to do Little Richard. Boy was I wrong. So wrong. In fact, Kennedy's Little Richard may go down in the herstory books as one of the best Snatch Game performances of all time. So why not higher in the rankings? Despite her shockingly hilarious turn as Little Richard, I don't think she's got the sense to keep up the success. She's just too all over the place.
5. I'm still surprised by how much I'm growing to like Violet Chachki. She began as the villain of this season, but the more time we spend with her, the more she's warming to the camera. I was impressed with her ability to quickly embrace a new character for Snatch Game (and based on her Donatella impression for Ru in the workroom, she made the right choice).
6. Then there's our other Donatella, Miss Fame. Was there a joke here? How in the hell are you going to dress on up as Donatella Versace and NOT get the Showgirls reference to Ver-sayce? Gay treason.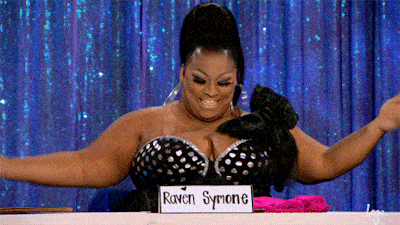 7. Sure, Jaidynn's Raven-Symoné was one-note, but that's still one more note than Miss Fame's Donatella or Max's Sharon Needles. The problem is that she committed the fatal sin of Snatch: Do not pick a celebrity because you like them. You don't want to be these stars' best friends. You do not want to honor them. That's not the point.
8. A hat tip to the editors for taking Max from one of the early stand-outs of this competition to a queen I could not say GURL, BYE to fast enough. She went from utterly charming to completely unbearable with such velocity, I think that's what actually popped her corset on the runway. (What was that whole ordeal about? And the singing? Stop.) I don't understand why she would choose Sharon Needles for Snatch Game and then totally miss what should've been a ground ball of characterization. Needles is already caricature! Max is a creative queen, and she's very well-developed at what she does, but this isn't RuPaul's Romantic Ghost Race.
WILD CARD: Whichever queen is set to return next week! That's right, at the conclusion of tonight's episode RuPaul announced that she's bringing back a previously eliminated queen. (It's Trixie, right? Surely, it's Trixie.)
How would you rank the queens this week?