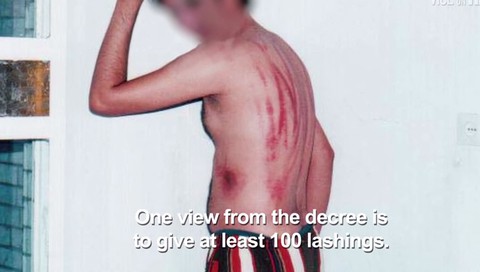 Tonight at 11PM on HBO's VICE, the newsmagazine series looks at the struggles faced by gays and transsexuals in Iran.
The following preview clips look at the lashings faced by those breaking Iran's strict laws and VICE correspondent Thomas Morton with Arsham Parsi, founder of the Iranian Railroad for Queer Refugees, as they visit World Pride in Canada.
Writes VICE in the promo:
Post-revolution Iran is notorious for its religiosity: when Ayatollah Khomeini came to power in 1979 he enforced strict Islamic custom that made homosexuality punishable by death. Surprisingly, though, the state treats transsexuals differently, allowing sexual reassignment surgery and in some cases even paying for it. It's become so widespread there, in fact, that Iran is now one of the world capitals for the procedure.

But the fatwa allowing the surgery has a grim drawback: families, therapists, and the state see gender reassignment as a solution to the "illness" of homosexuality—not understanding the risks of forcing the long, life-changing process of a sex change on someone who wasn't born wanting it. Gay Iranians now face the agonizing choice of fleeing their communities or permanently changing who they are.
Watch the clips, AFTER THE JUMP….