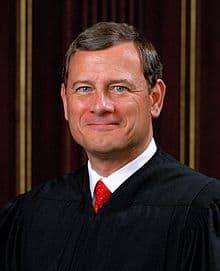 During oral argument in Obergefell v. Hodges, the same-sex marriage case, Chief Justice John Roberts asked an important, substantive question that had some commentators scratching their heads. The plaintiffs' lawyer had just made the argument that bans on gays marrying amounts to discrimination on the basis of sexual orientation. Then, the Chief Justice said:
I'm not sure it's necessary to get into sexual orientation to resolve this case. I mean, if Sue loves Joe and Tom loves Joe, Sue can marry him and Tom can't. And the difference is based upon their different sex. Why isn't that a straightforward question of sexual discrimination?
In a way, he's right. Sue can marry Joe because she's a woman; Tom can't marry Joe because he's a man. That's sex discrimination. And although this seems pretty obvious, the argument got scant attention in the volumes of briefs before the Court in Obergefell and was raised only a few times during the post-Windsor onslaught of cases over the last two years.
That is not to say that the sex discrimination argument is entirely foreign to the marriage equality movement. Indeed, as Northwestern Law Professor Andrew Koppelman and George Mason Law Professor Ilya Somin noted in their Obergefell amicus brief, some of the first generation of marriage equality cases relied on a sex discrimination rationale. And if his question is any indication of his ultimate opinion — a dubious correlation, however — the Chief Justice could be another vote in favor of marriage equality.
Perhaps most gay couples yearning to marry don't care how we get to a nationwide freedom to marry, just as long as we get there in the end. After all, a win is a win is a win. But a sex discrimination argument would be like winning a battle because the enemy engaged in a strategic retreat: it is not only unsatisfying, it doesn't answer the ultimate question of who wins the war. It leaves gay persons without necessary constitutional protections and opens us up to myriad forms of discrimination. Arguing that gay marriage bans are examples of sex discrimination is a half truth: they may be discriminating on the basis of sex, but they absolutely discriminate on the basis of sexual orientation, as well. To ignore the latter just because the former is a little easier offers tacit approval for antigay discrimination.
I tease out the sex discrimination argument, explain why it should be discarded, and speculate on how the argument could play out in June, AFTER THE JUMP…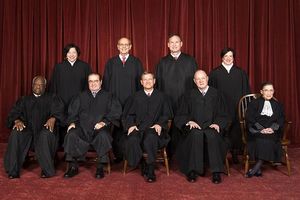 Koppelman's and Somin's argument is, in brief, that the Supreme Court should invalidate all state level bans on gays marrying because those laws discriminate on the basis of sex. The basic theory is clear: a man can marry a woman, but man cannot marry a man, so he is being discriminated against because he's a man; if he were a woman, s/he could marry a man.
This is the path to take, Koppelman and Somin suggest, because it's easier. It doesn't require the Court to break new ground, create new levels of scrutiny, and elucidate a sexual orientation discrimination constitutional doctrine. We already have a sex discrimination rule, which gives incidents of sex discrimination at the hands of the state heightened scrutiny. Under old precedent, therefore, Obergefell is open and shut.
The problems with this argument are manifold.
It's central failing is why even conservatives like the Chief Justice may be inclined to adopt it. Conservatives are not "there" yet when it comes to homosexuality, in general, and antigay discrimination, in particular. For various reasons — religion, morality, Burkean conservatism — they are uncomfortable setting precedent that would prohibit individuals from discriminating against gays. And yet if you are, say, a young conservative jurist who will likely preside over a Supreme Court for at least another 20 or 30 years and do not want to occupy a place in the historical trash heap as just another hateful white man, you are going to want to find a middle way that allows gays to marry without saying that gays have a constitutional right not to be discriminated against.
And therein lies the problem with using the sex discrimination argument to win this battle. It could lose us the war, or, at best, set us back years.
There are countless examples of discrimination faced by gay persons that do not also constitute sex discrimination, but the many forms of employment discrimination are paradigmatic. In 31 states, you can be fired simply for being gay. That's not sex discrimination: it's not as if the fired employee would have been saved had he or she had different sexual organs.
The sex discrimination is not only bad for the long term legal health of our community. It also ignores the fact that bans on gays marrying is in fact sexual orientation discrimination! That cannot be ignored. If you ban an entire group of people, coherent based on their sexual orientation identity, from participating in an institution for the sole reason of their sexual orientation identity, that is not only sexual orientation discrimination, but it is also odious under the Fourteenth Amendment's guarantee of equal protection to all persons.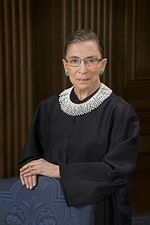 There are five justices of the Supreme Court who already realize this. The progressives, led by Justice Ginsburg, are not going to fall for the trap of sex discrimination. Nor will Justice Kennedy, who had the opportunity to use the sex discrimination argument before, but instead chose to speak eloquently about the dignity of all gay persons and their children. Justice Kennedy brought up that inherent dignity in his questions during oral argument, suggesting he is hewing close to the equality doctrine he has developed since Romer.

If the Chief Justice is thinking strategically, he may offer a concurring opinion suggesting that the Court need not reach issues of sexual orientation discrimination because sex discrimination is already a easy weapon to use. I doubt he could get Justices Kennedy, Ginsburg, Breyer, Sotomayor, and Kagan on board. I hold some concerns about Justice Breyer, the consummate moderate that he is, but those are relatively fleeting. More likely, the Chief Justice floats this idea in conference and it goes nowhere, at which point he goes back to a 4-justice minority.
***
Follow me on Twitter.
Ari Ezra Waldman is Associate Professor of Law and the Director of the Institute for Information Law and Policy at New York Law School. He holds a Ph.D. from Columbia University, a J.D. from Harvard Law School, and a B.A. from Harvard College. Ari writes regular posts on law and various LGBT issues.