This weekly travel column is brought to you by ManAboutWorld, an immersive digital gay travel magazine for iOS and Android devices from Billy Kolber, Ed Salvato, Kenny Porpora, and nearly 75 Global Correspondents.
In just a few days Vienna will be the envy of Europe when the 60th-annual Eurovision Song Contest takes over the city from May 19 (when the semi-finals begin) until the finals of May 23. Massively popular throughout Europe it's less known in the U.S. If you're unfamiliar, think of it as a cross between American Idol and the World Cup. Last year's pretty bearded winner, Conchita Wurst, will host the green room. Check out her live, spine-tingling performance in this YouTube video of "Rise Like a Phoenix" from the 2014 Eurovision second semi-final. Contestants from 40 countries will compete to win this prestige singing battle. In an acknowledgement to just how queer this contest is, Vienna has even installed gay-ed up streetlights. 
Tickets for the grand show are sold out, but other performances may still be available. Check the website. There's also a large public viewing space, Eurovision Village at the Rathausplatz, with all sorts of activities planned, free and open to the public.
If you're heading to Vienna for the contest or just to explore this gorgeous under-appreciated gem of a city, read on for our favorite five things this spring or download ManAboutWorld Magazine on iTunes (iOS) or Google Play (Android) for even more recommendations. 
1. Hotel Sans Souci Wien: Relatively new on the scene, the Hotel Sans Souci Wien combines modern sophistication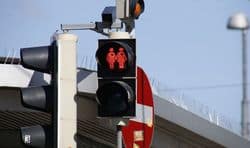 with a refreshing touch of whimsy, from the YOO Studio-designed furnishings in shades of cream and purple to the clever, oversized Vienna-set selfies by Austrian skier-turned-art photographer Hubertus von Hohenlohe that adorn the lobby and many rooms. This 63-room boutique hotel serves up some serious swank without taking itself too seriously. 
2. Café Willendorf: Located in the fun, fabulous gay and lesbian center Rosa Lila Villa, Willendorf is a great place to kick off your evening with a nosh and to check out other visiting and local gays. Prices are reasonable, the food is great, and the small garden in the courtyard is enchanting. It's in the heart of the gay section with a mostly gay clientele.  
3. Schönbrunn Palace: You cannot know Vienna without understanding "Sisi," the cherished empress. Visit her former summer residence, a marvelous baroque complex with a lovely park, the Palm House, the Gloriette and a zoo. You could spend a day here; be sure to take the "Grand Tour with Audio Guide," which will lead you to the must-see highlights.
4. MuseumsQuartier: Formerly the Hapsburgs' stables, this cultural center attracts visitors not only with its splendid contemporary art collection but also its architecture, a basalt lava cube on a historical plaza. You can almost not take a bad picture of this.
5. Café Savoy: Many of Vienna's gay bars are clustered around the Naschmarkt area in the 5th and 6th districts. We love Café Savoy or its Imperial-era vibe and long history. This can't-miss venue is super popular gay meeting spot. 
For even more insider recommendations in Vienna and for other destinations around the globe and in the U.S., get ManAboutWorld Magazine on iTunes (iOS) or Google Play (Android). Vienna's official tourism offers also offers gay-specific information.
And ManAboutWorld is now on the iPhone! Android coming soon. To download for the iPhone, click HERE.
Image credits: Top: LifeBall Conchita_Akzeptanz; Right: Vienna Lights; Bottom: Schönbrunn Palace