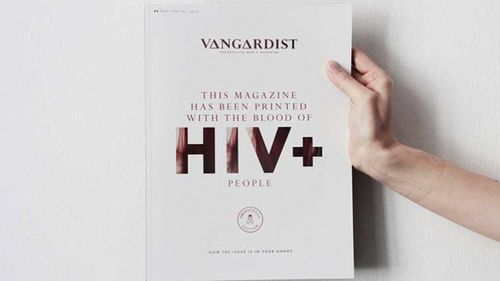 Vangardist, an Austrian men's magazine focused on LGBT issues, is distributing a limited run of an upcoming issue that's printed using the blood of three HIV-positive people. The ink to be used in this May's edition of the usually digital magazine will be infused with blood in which the virus has been rendered inert and is safe to touch. The special edition run of the magazines are a part of a campaign to better explain just how the HIV virus works and to combat the stigma that still plagues positive people today. Some three thousand copies of the issue will go on sale May 7th for 50 euros each (about $56).
"With 80% more confirmed cases of HIV being recorded in 2013 than 10 years previously, and an estimated 50% of HIV cases being detected late due to lack of testing caused by social stigma associated with the virus," Vangardist CEO Julian Wiehl explained. "This felt like a very relevant issue for us to focus on not just editorially but also from a broader communications standpoint."
The magazine will only be made available to subscribers at launch before seeing a wider release later on in the month.