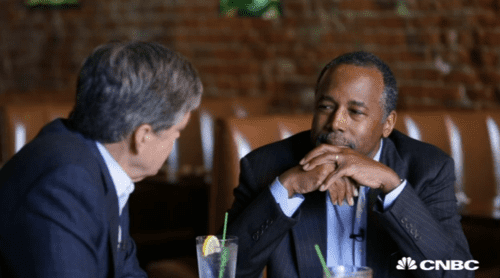 Speaking with CNBC's John Harwood, retired neurosurgeon and 2016 presidential candidate Ben Carson was asked to elaborate on his opposition to marriage equality.
Said Carson:
"Recognize that if you change the definition of marriage for one group, what do you say to the next group? Do you say, 'Well, we changed it for this group, but that's it, we're not changing it for anybody else.' Does that seem fair?" 
When pressed on what "other groups" he was referring to, Carson remained vague but said bigamy was one "possibility." Seeing as Carson has previously compared gay people with pedophiles and people who have sex with animals, one can only imagine what perversions the soft-spoken nutbag had swirling around in his head. 
It's just too bad the media is always playing "gotcha politics" with him when he shares his prison sex and bestiality related fantasies. 
Watch the segment, AFTER THE JUMP…