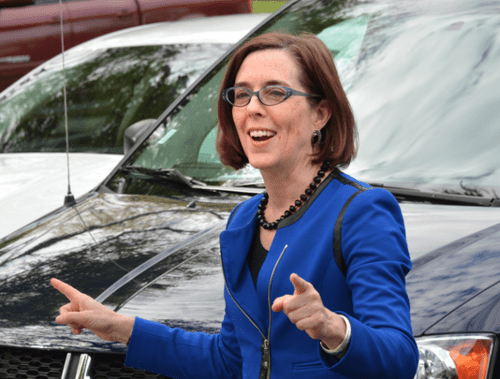 It is now illegal for Oregon's state-licensed mental health professionals to provide "corrective therapies" meant to "cure" people of their same sex attractions. House Bill 2307, the new law banning the widely discredited practice conversion therapy, was swiftly passed through the Oregon House in March and the Senate in early May with a vote of 21-3.
Oregon governor Kate Brown, who is openly bisexual, signed House Bill 2307 into law earlier this week, creating protections for the state's queer youth. Going forward, "therapists" working with active medical licenses issued from within the state will be barred from subjecting teenagers younger than 18 to ex-gay treatments. Brown's passing the bill makes Oregon the third state in the country to outlaw conversion therapy, joining California and New Jersey, in addition to the District of Columbia.
"Conversion therapy at its core, I believe, is an act of violence," said Democratic Oregon state senator Sara Gelser. "Being lesbian, gay, bisexual or transgender is not a mental disorder, and it is not something that should be cured."
The specific language of HB 2307 provides people with protection from a wide variety of different forms of conversion therapy including attempts to challenge a transgender person's self-asserted identity and attempts to "change behaviors or expressions of self or to reduce sexual or romantic attractions or feelings toward individuals of the same gender."
"We are very pleased that Oregon has banned the use of conversion therapy on minors and thank Gov. Brown and the Oregon Legislature for taking this important step," said GLSEN executive director Dr. Eliza Byard. "We hope Oregon will prove to be just the first of many states to ban this harmful and discredited practice that uses rejection, shame and psychological abuse aimed at changing one's sexual orientation or gender identity/expression."