In the future we will all look Brazilian, says one researcher.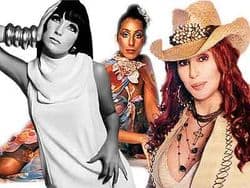 Allison Bechdel on how she enjoys being an "unusual woman": "I think the way I first understood my lesbianism, before I had more of a political awareness of it, was like: Oh, I'm a man trapped in a female body. I would've just gone down that road if it had been there. But I'm so glad it wasn't, because I really like being this kind of unusual woman. I like making this new space in the world."

Happy 69th Birthday to Cher.

Matt Bomer makes the sand sizzle in Hawaii.

Bill Murray got a little drunk and crashed The Last Word with Lawrence O'Donnell last night.

Who knew Thundercats was so sexual?

Brandon Flowers performs on The Graham Norton Show.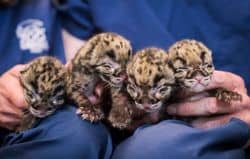 Quadruplet clouded leopard cubs were born at Point Defiance zoo and aquarium in Tacoma, Washington earlier this month. Together they weigh "roughly as much as a box of corn flakes," according to the zoo.

Vicious will return to US airwaves on August 23 on PBS.

An Oklahoman in love with an Irishman shares his perspective on gay marriage in Ireland.

Rand Paul filibusters renewal of The Patriot Act.

Ahoy, New Yorkers! Fleet week gets underway.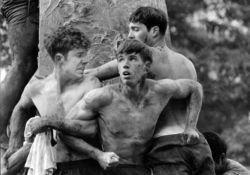 Speaking of sailors, a look back at the Herndon Climb.

Conservative lawmakers in Nebraska repeal the death penalty over the Governor's threat to veto their efforts.

Homophobia is still alive and well in European soccer: "Here is a banner that was displayed at a match in Sarajevo, Bosnia-Herzegovina that reads: 'May 17th is the International Day Against Homophobia and Transphobia and in honor of your holiday tomorrow we want you to suck our dicks.'"

Neo-con David Brooks jumps into the political mire in which the Iraq war is being re-hashed, penning an op-ed in the NYT: "If you could go back to 1889 and strangle Adolf Hitler in his crib, would you do it? At one level, the answer is obvious. Of course, you should. If there had been no Hitler, presumably the Nazi Party would have lacked the charismatic leader it needed to rise to power. Presumably, there would have been no World War II, no Holocaust, no millions dead on the Eastern and Western fronts. But, on the other hand, if there were no World War II, you wouldn't have had the infusion of women into the work force."