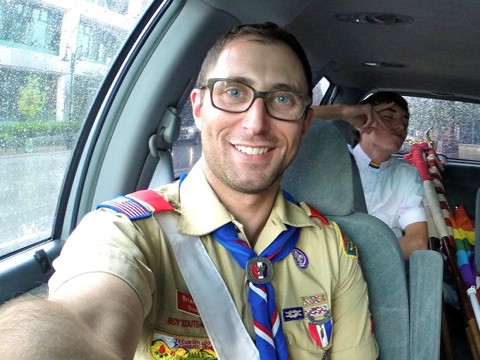 Following the ouster of yet another gay adult leader, LGBT advocates say they're hopeful the Boy Scouts of America will reconsider the ban at its upcoming national meeting later this month.  
Brian Peffly, 35, is an Eagle Scout who served as assistant volunteer Scoutmaster for a troop in suburban Columbus, Ohio. Peffly outed himself as gay in a TV interview in April 2014 about the Boy Scouts' decision to remove openly gay Seattle troop leader Geoff McGrath. In September, Peffly's local council adopted a nondiscrimination policy that includes sexual orientation. But in March, Peffly received a voicemail and letter from the national office saying he was being removed for unspecified reasons, according to Cleveland.com: 
"Due to issues with your ability to comply with some of our rules and regulations, we're going to have to be revoking your registration in the Boy Scouts," Steve McGowan, general counsel for Boy Scouts of America, said in the message.

A subsequent letter from McGowan didn't elaborate.

"As I indicated in my phone message, when someone states they do not comply with policies of the Boy Scouts of America, regardless of the topic, they may no longer be considered for a volunteer adult leadership position in the organization."
The BSA lifted its ban on gay youth in 2013 but continues to bar gay adult leaders. However, the Greater New York Council of the Boy Scouts recently hired an openly gay man to serve as youth leader. Meanwhile, the New York attorney general's office has launched an investigation into whether the Boy Scouts' employment practices violate the state's ban on anti-gay job discrimination. Ohio has no such law.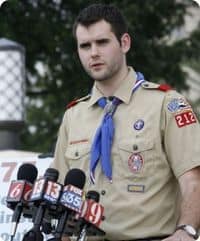 Zach Wahls, executive director of Scouts for Equality, called the BSA's decision to remove Peffly without telling him why cowardly, according to The Columbus Dispatch. But Wahls said he hopes cases like Peffly's will prompt the BSA to reconsider the policy at its upcoming meeting in Atlanta. From Cleveland.com: 
"There's a real possibility that it could enter the conversation," Wahls said. "We think that is increasingly likely, given what happened up in New York, given Brian's situation. This is clearly not going away. … 

"If they wait until they have no other option, there is no honor in doing the right thing and this will further tarnish all that scouting stands for," he said.
Watch a report on Peffly's ouster from WBNS-10TV, AFTER THE JUMP …