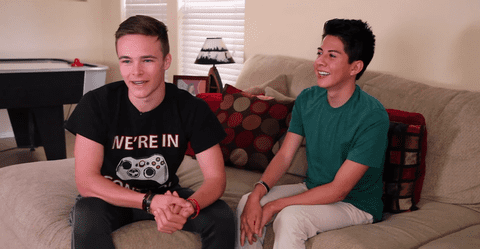 By now you have likely seen the all too adorable promposal by a straight Las Vegas, Nevada teenager to his gay best friend that set the internet ablaze. What began as one friend asking another to the prom quickly exploded to become a viral sensation. The friends, Jacob Lescenski and Anthony Martinez, got to go on Ellen and had the picture of their promposal shared by other celebrities including Miley Cyrus and Ashton Kutcher. Teen Vogue even followed the duo around as they got styled and ready for their big night.
Davey Wavey was also on hand to cover the boys' trip to prom and got a chance to sit down and chat with them afterwards about what it was like to become viral sensations and why they think so many people responded to their story. 
RELATED POST: 'Teen Vogue' Documents Gay Teen And His Straight Best Friend On Their Hella Cute Prom Night
Asked whether he was worried whether people would think he is gay for taking Anthony to the prom, Jacob responded, "Being judged is not something I'm worried about. Because I know who I am and the people I care about know who I am and I don't need to worry about what the other people think….For me I was just trying to make my best friend happy."
The boys went on to share that their slow dance was the most memorable and most nerve-wracking part of their prom, with everyone forming a giant circle around them to watch and cheer them on. 
Jacob and Anthony each have their own thoughts on the broader message behind all the attention they have garnered. Be sure to check them out, AFTER THE JUMP…