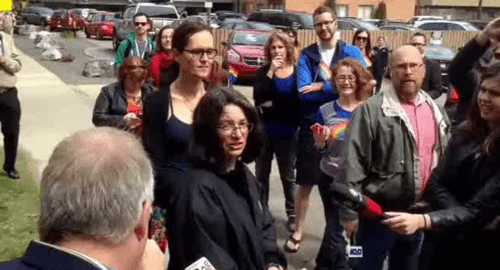 After a meeting of minds at the Catholic school board of Edmonton, a young transgender girl will finally be able to use the bathroom that she feels most comfortable going into. Originally the seven year old girl's school opted to have her use a special, gender-neutral bathroom apart from the other children, something her mother took issue with and brought to the attention of higher ups within the Catholic school board and the Alberta Human Rights Commission.
Initially, the school board informed the girl's family that it wouldn't take her complaint into consideration until the Commission judged that their issue had any merit to it. Patricia Grell (above center), trustee to the board, insisted that the group act faster, speaking out against her fellow board members in person and online via her personal blog.
"No parent wants to have the conversation with their child about encouraging them wanting to live, and encouraging them that they are not a disgrace to God," Grell said. "So you go and you pray in your own sanctuary and here comes Patricia Grell. The answer to my prayers."
Grell's agitation drew the attention of Debbie Engle, head of the board, who quickly submitted a motion to have Grell dismissed from the body. Grell was set to appear before the board to explain her outspokenness on Monday when it suddenly decided to drop the issue.
"The mover of the intended motion advised that she wished to withdraw that single item, and as a result, the board determined that it was not necessary to proceed with today's meeting," the board's press release read. "The agenda item was to discuss the public nature of board business and may be addressed at a future date."
While the girl will be allowed to use the girls' bathroom at her school going forward, it's important to point out that no official decision has been made for the entirety of the province. The board has said it will consult with the Archdiocese of Edmonton, medical specialists, parents and educational experts in the creation of a new bathroom policy. 
"For the first time in quite some time, [my daughter] was able to use the bathroom alone and so that made her feel wonderful," the girl's mother explained to the CBC, adding her uncertainty about the rules for other children like hers. "Is this a today solution and then next year it's a different solution? I'm very torn."