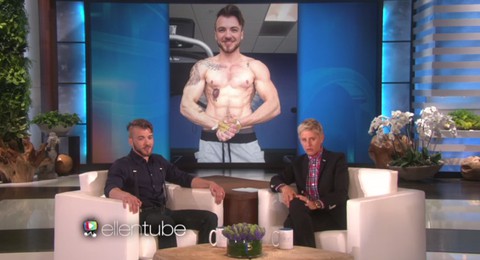 Ellen sat down with trans bodybuilder Aydian Dowling to talk to him about his experience coming out as trans and also about his vying to be the cover model for Men's Health 'Ultimate Guy' issue. 
Dowling shared that first, as a female, he came out as a lesbian. However, that label never really felt right and it was after a friend asked, "why don't you become a boy?" that Aydian began to discover what it meant to be transgender. It was this discovery which ultimately allowed him to finally understand who he was underneath the skin. 
More than just an active spokesperson for the trans community, Dowling is also a bodybuilder and first registered on many a radar due to his recreation of an iconic nude photo taken by Maroon 5 frontman Adam Levine. Now Dowling is the frontrunner to be the cover model for Men's Health magazine's 'Ultimate Guy' issue which is largely being decided by online voting. 
Said Dowling of the significance of being a cover model for Men's Health: "Being on that cover will question the new average, what is average you know? I think it breaks that barrier."
Ellen applauded Aydian for sharing his story and for so courageously living as his most authentic self: 
"Everybody wants to live their authentic self and they're scared to do it because not too many people, when you're going against what mainstream society says, gets that support so when you actually have the courage to do it regardless of whether you're going to get that support or not that's the first most amazing step you can take in your life."
Watch the interview, AFTER JUMP…
The Men's Health contest runs through June 25th. You can cast your vote here.