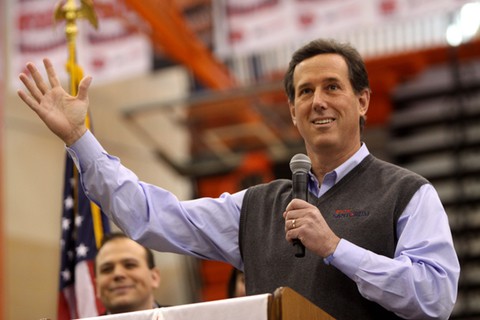 Former Pennsylvania Senator and notoriously anti-gay stalwart Rick Santorum is expected to announce his second bid for the Presidency today. Santorum came in second place when seeking the Republican Party's nomination in 2012 behind Mitt Romney. Political experts question whether Santorum will be able to duplicate or surpass his past success given the crowded field of GOP candidates, many of whom are vying for the evangelical votes that catapulted Santorum so far.
The prospective Republican field already includes four sitting senators, four governors, four former governors, two business leaders and a retired neurosurgeon.
Santorum won 11 states in the last presidential primary contest, yet his early longshot status may keep him out of presidential debates altogether.
Only those who place in the top 10 of national polls will be allowed to participate in the first Republican presidential debate in August, according to guidelines released by network host Fox News. Santorum and fellow 2012 candidate, former Texas Gov. Rick Perry, are among those on the bubble.
Much of Santorum's past success was tied to his performance in Iowa, where he scored a narrow victory over Mitt Romney in the nation's first presidential nominating contest. Facing little competition for the state's influential evangelical vote, Santorum impressed voters by touring Iowa's 99 counties in a pickup truck. […]
Meanwhile, on the ground in early-voting states like Iowa and South Carolina, Santorum starts off as well-known among voters and key activists. But a new crop of Republican competitors like Wisconsin Gov. Scott Walker has been aggressively touring the states in recent weeks as well. And some voters prefer a fresh face in an election season expected to feature Hillary Rodham Clinton on the Democratic side.
Santorum is expected to make his announcement today at 5PM EST.