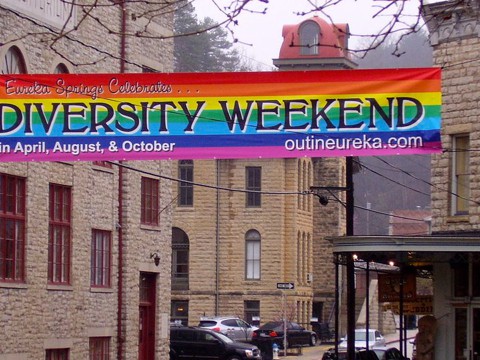 Voters in Eureka Springs, Arkansas — known as "the gay capital of the Ozarks" — overwhelmingly voted against repealing the town's LGBT-inclusive nondiscrimination ordinance on Tuesday. 
The margin in favor of keeping the ordinance was 579 to 231, or roughly 71 percent, ensuring Eureka Springs will remain the only city in the state that prohibits anti-LGBT discrimination in employment, housing and public accommodations. 
The Eureka Springs City Council hurriedly approved the ordinance in February, hours after the Arkansas Senate passed a bill prohibiting cities from adding classes to nondiscrimination ordinances that aren't included in state law. Despite Tuesday's vote, the city will no longer enforce the ordinance after July 20, when the state ban on local LGBT protections takes effect.   
Tuesday's vote made national news, due to Eureka Springs' dual identity as a gay-friendly resort town and the home of a 66-foot-tall "Christ of the Ozarks" statue at the site of a play depicting Jesus' final days. 
ArkansasOnline.com reports: 
Randall Christy of Ada, Okla., chief executive officer of the Great Passion Play near Eureka Springs, said voter turnout was low in part because Christians were afraid to vote. The election drew 48 percent of the town's 1,705 registered voters.

Christy said one man who put out a sign reading Repeal 2223 found his car windows smashed the next day. Others found maggots in their mailboxes.

Christy said he has had his life threatened over the issue.

"I don't think people understand the kind of people we're dealing with in Eureka Springs," said Christy. "There is an infill of very vile, radical, vicious people in this town. They have gone around intimidating people to the point that they were afraid to get out of their homes today. This is not sour grapes. The people have voted. The Bible-believing Christians did not have the guts to get out and vote."
Another opponent of the ordinance, 88-year-old Rene' J. Chouinard blamed gay people for hurting the town's economy: 
Chouinard said he moved to Eureka Springs from Connecticut in 2000, but the town has changed since 2004. More shops and businesses are closed, and he blames it on gay people flaunting their lifestyle in one of Arkansas' most permissive enclaves.

"If they want to use Eureka Springs to come out of the woods, that's fine, but I don't want them to go down the street playing with each other," Chouinard told Young. "I myself walking downtown saw people grabbing each other's can in front of people. … We're getting too permissive in this town, much too permissive, and I don't like it. If they want to come to this town, they're welcome, but be civilized."
Tuesday's vote in Eureka Springs bucked a recent trend in the region of voters repealing LGBT protections, including in Fayetteville, Arkansas and Springfield, Missouri. Even though the ordinance will only be in effect for two more months, city officials and LGBT advocates hope it can be used as a basis for challenging the state law.  
"Arkansas cities are leading the way and we hope that Governor Asa Hutchinson is taking notice," HRC Arkansas state director Kendra R. Johnson said in a statement. "Where leadership has failed Arkansans on the state level, local municipalities like Eureka Springs have taken the initiative to ensure that all their residents are rightfully protected from all forms of discrimination. Welcoming all people in our communities makes the Natural State stronger and we praise the local activists who worked tirelessly to make this victory possible. Right now, keeping up the momentum in other cities is imperative, so that every Arkansan can feel safe in their community."
Watch a report from OzarksFirst.com, AFTER THE JUMP …