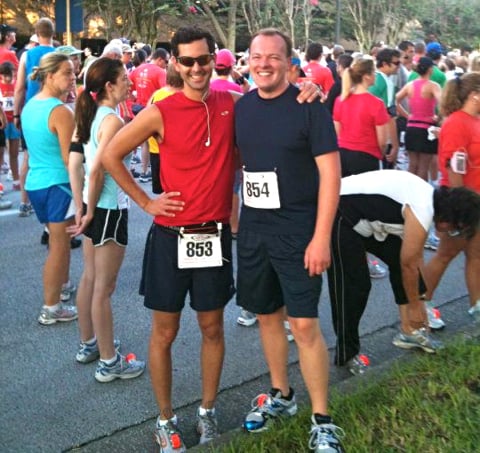 After a week of national outcry, an Episcopal church in Florida has decided to baptize a same-sex couple's baby after initially canceling the ceremony. 
The controversy began last Saturday, when Rich McCaffrey (above with his husband, Eric) reported on Facebook that the Episcopal Cathedral Church of St. Luke in Orlando had canceled their son's baptism because some members of the congregation objected: 
We chose Sunday, April 19 for the baptism. We attended Sunday services and recommended classes, becoming more familiar and pleased with our choice. We invited friends and family, both local and from out of town, and we looked forward to celebrating with Jack on what was to be an important day. On Thursday, April 16 we received a message from Dean Clark asking us to contact him regarding "a development" concerning the baptism. With relatives in the room, I called and what I heard still creates a lump in my throat. The Dean shared there were members of the congregation who opposed Jack's baptism and although he hoped to resolve the conflict, he was not yet able to (the Bishop of Central Florida, Greg Brewer, was also involved). After probing further the Dean said "the issue is with you and Eric being the first two men who will baptize their child at the Cathedral." He offered his apologies and further explained this was a bigger deal because of the exposure that comes along with the baptism taking place at the Cathedral. In essence "this is not no forever, just not now." Three days before our son was to be baptized he was turned away. At that moment, he was unwelcomed by the church, and denied his rite to be recognized as a Christian. I was speechless, angry, and heartbroken.
McCaffrey's post was shared more than 1,000 times and garnered national media attention. An online petition calling for the church to baptize Jack reached almost 25,000 signatures.  
The outcry prompted Brewer, the bishop of the Episcopal Diocese of Central Florida, to reach out to the couple. And McCaffrey reported Friday that Brewer had agreed to allow Jack to be baptized in the church: 
Bishop Brewer extended an invitation to meet with us and we had the opportunity to speak with him yesterday evening. We spoke frankly and openly about the chain of events. … He genuinely wanted to learn about us and expressed his apologies for how it had been handled. Most importantly, he was clear he is supportive of Eric and I, two dads, baptizing our son at the Cathedral and offered to be a part of it. 

We are appreciative and are looking forward to the baptism to take place this summer. At the same time we know on many fronts there is healing to be done which will take time. …

I close with one more lesson for Jack – Aspire to live your life with grace and forgiveness. You will be better for it.

Change is seldom easy. I thank each of you for listening to us, supporting us, and engaging in the conversation.
Watch a report from WFTV.com, AFTER THE JUMP …