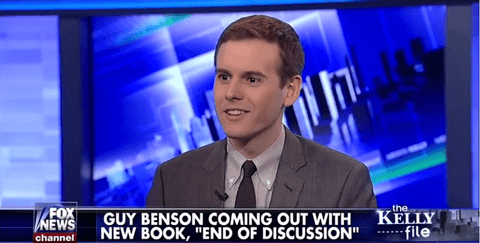 Yesterday, Guy Benson, a conservative talk radio host, contributor for Fox News, and political editor for Townhall.com, came out in what he calls a "footnote" in his new book End of Discussion: How the Left's Outrage Industry Shuts Down Debate, Manipulates Voters, and Makes America Less Free (and Fun). Benson (30) was also interviewed by BuzzFeed, telling them, "Gay rights is not something that dominates my attentions — or my passions — and that may seem incongruous, that may seem counterintuitive to a lot of people."
Last night, Benson sat down with Fox's Megyn Kelly for a one-on-one about Benson's coming out. Kelly began by letting Benson know, "You're in a safe place here."  Benson then commented to Kelly,
 "I just want to acknowledge, quickly, that I recognize that I am so fortunate to live in a country and an era where we can be having this exact kind conversation on national television. And I recognize that a lot of that is due to the fact that I'm standing of the shoulders of people who've worked very hard for a very long time, who probably don't share my political persuasion. So I just want to give them some credit in this. But I think when that crosses some threshold into punishing and purging dissenters and trying to exact punishments on people for not agreeing, that is not what we should be about in this country. I think we should be better than that in this country."
What exact "punishments" the gay left are looking to enact on him and other so-called "gay conservatives" for "dissenting" is not made clear. 
As Joe.My.God notes, however, Benson's particular form of "dissent" with the LGBT left is perhaps of particular interest to the LGBT community because the website he is political editor of, Townhall.com, is notoriously anti-gay. So the backlash he has experienced thus far may have more to do with his seeming lack of concern for gay rights (as implied in the BuzzFeed interview) and/or his tacit agreement with the anti-gay viewpoints spewed on the site of which he is an editor than with whether he labels himself a conservative or a liberal. Thus, it is the mere payment of lip service to the civil rights legends who fought for his rights while having no concern for them himself that seems, to use Megyn Kelly's word, anathema to being a gay man in 2015.  
Watch the interview, AFTER THE JUMP…