Indicted former House Speaker Dennis Hastert was paying to cover up "sexual misconduct" with a former male student, two federal law enforcement officials announced today.
Hastert was indicted yesterday for lying to the FBI about the cover up. 
Before serving as Speaker of the U.S. House of Representatives from 1999 to 2007, Hastert was a wrestling coach at Yorkville High School from 1965 to 1981. Hastert is the longest-serving Republican Speaker in history.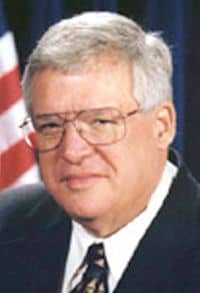 The Los Angeles Times reports:
"It goes back a long way, back to then," the source said. "It has nothing to do with public corruption or a corruption scandal. Or to his time in office."  Thursday's indictment described the misconduct "against Individual A" as having "occurred years earlier."
Asked why Hastert was making the payments, the official said it was to conceal Hastert's past relationship with the male. "It was sex,'' the source said. The other official confirmed that the misconduct involved sexual abuse.
Hastert has not responded to requests for comment. Representatives of his lobbying firm declined to comment.
Federal prosecutors alleged that Hastert agreed to pay $3.5 million in apparent hush money to the individual, then lied to the FBI when asked about suspicious cash withdrawals from several banks.
Hastert reportedly began making payments to the individual starting in 2010. 
NBC News adds:
Jeff Jerabek, who was on the wrestling team in the mid-1970s, said he had never heard so much as a rumor of impropriety. He described Hastert as friendly and in tune with his students.
"If you had a problem, it wouldn't be hard to talk to him about it," said Jerabek, whose two older brothers were also on the team. "I remember one time I was walking along with a frown and he said, 'Hey smiley, cheer up.' Some teachers, it's just a job. Not him. He was a friendly guy."
Yorkville High School released a statement denying any knowledge of Hastert's "sexual misconduct." 
According to OnTheIssues, Hastert voted against prohibiting job discrimination on the basis of sexual orientation and in favor of a constitutional amendment banning same-sex marriage.
During the media's spotlight of Hastert's (mis)handling of the Mark Foley scandal back in 2006, Hastert's living arrangement with his staff raised eyebrows of some in the blogosphere.
Wrote liberal blogger Wayne Madsen at the time:
"There is also much focus on the relationship between House Speaker Dennis Hastert and his chief of staff, 56-year old Scott Palmer. Hastert and Palmer, Hastert's longtime unmarried adviser, live together in a DC townhouse along with Hastert's Deputy Chief of Staff, Mike Stokke, while Hastert's wife Jean lives in Yorkville, Illinois and stays at a hotel when she visits Washington."
Developing…