Irish anti-gay activist and Iona Institute mouthpiece Breda O'Brien (above) has declined an invitation to debate Rory O'Neill – aka Panti Bliss – on grounds of illness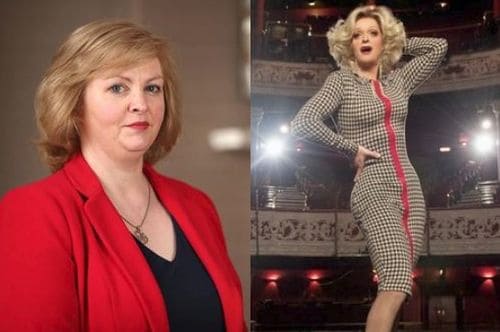 Irish anti-gay activist and Iona Institute mouthpiece Breda O'Brien (above left) has declined an invitation to debate Rory O'Neill – aka Panti Bliss (above right) – on grounds of illness, reports the Independent.
Last month, O'Brien, a teacher and columnist with the Irish Times, misquoted former Irish President Mary McAleese while attacking the latter's pro-equality comments.
Although O'Brien initially challenged O'Neill to a debate, she has now claimed that she cannot take part as she has a "very bad case of bronchitis".
Oddly, she also claimed that a debate before the referendum would not be appropriate. Not so oddly and true to form, she made a lame attempt to muddy the waters by attacking the "systemic removal of No posters" and the decision by the Irish police force to support a yes vote.
Additionally, the officially non-homophobic journalist attacked the international financial support given to the 'Yes' side, neglecting to mention that the Iona Institute's donations cannot be verified because the fake institute has refused to issue its accounts.
"I'm absolutely willing to have a debate, or preferably a conversation with Rory at the right time and the right place. But I don't believe now is the right time because it will only distract from the referendum campaign and the proposed massive constitutional change. Why do I say that? There was a deluge of offers from media outlets offering to host a debate. However, none of them showed the slightest interest in looking at the systematic removal of No posters throughout the country, or at the worrying intervention of [the police force] apparently advocating a Yes vote.

"There was no interest in investigating the distorting effect of millions of Atlantic Philanthropy dollars given to only one side of the debate for nearly a decade, with the aim of securing same-sex marriage. It made me wonder whether programme makers were seriously interested in informing the Irish public or simply interested in boosting ratings."
Despite the claims of media bias, Larry Masterson, producer of state broadcaster RTE's The Saturday Night Show, said no parameters whatsoever had been discussed when O'Brien said no to the debate:
"We told Breda we would give her an equal time of four to five minutes for each side. There would be silence throughout and that the audience would be split fairly 50/50. There was no discussion of parameters but I would be happy to sit down and discuss anything she would like, even at this late stage. We are making ourselves available to her. In her allotted time she is also free to discuss any issue she wants. She can dedicate it all to talking about the [police] advocating a Yes vote or the removal of No posters, if she wants. We are still available this week. We rang Rory and within minutes he got back and said he would do it."
Rory O'Neill said he has been approached by "every TV and radio station in the country" and is ready to debate with Ms O'Brien "if she wants to".
But Ms O'Brien earlier this week told the Sunday Independent: "The point is that no journalist has undertaken to investigate any of the areas I spoke about. Offering me time to make the points in a debate with Panti hardly counts as investigative journalism undertaken by the Irish media into areas of grave concern for Irish democracy."
Translation: O'Brien can lie and abuse people as much as she wants and ignore the actual issues but it's up to someone else to deal with actual facts.
Watch the Iona Institute's latest factually incorrect attack on equality, AFTER THE JUMP…