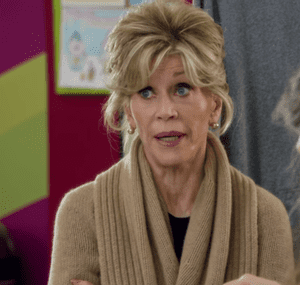 But she won't say who. In an interview with PrideSource, the actress and her co-star Lily Tomlin spoke about their new Netflix show, Grace and Frankie, and whether they had ever dated or been involved with gay men before. While Tomlin had not, Fonda shared that she was heavily sought after by gay men in the 60s:
When I was young, I was the female that gay guys wanted to try to become heterosexual with. A very famous actor who's gay – and I will not name names – asked me to marry him. I was very flattered, but I said, "Why?" This was 1964. And I mean, he wasn't the only one. It's very interesting. And I lived for two years with a guy who was trying to become heterosexual. I'm intimately acquainted with that.
Fonda also shared her memory of the late Harvey Milk whom she knew:
He was the most joyous. He was like Allen Ginsberg. He was always smiling and laughing, and he was beloved and he was funny. The most lovable person. I was so happy when I was with him. And it was just so much fun going into those gay bars with him – oh my god!
Head on over to PrideSource for the full interview with both Fonda and Tomlin.