Former NBA player Jason Collins blasted FIFA's plans to host the upcoming 2018 and 2022 World Cups in Russia and Qatar, respectively.
Said Collins to BBC World Service's program Sportsworld: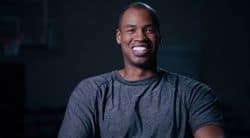 "If you're a governing body like Fifa you cannot have sporting events in countries… where they have laws on the books that say that homosexuality is illegal, you just cannot give them that power. So whether it's Russia, whether it's Qatar, you cannot give them the games, period, until they change their laws or the culture so that people feel comfortable again to live their authentic life."
Added Collins:
"If you do go, know that as an athlete you have a unique platform and I hope that you're able to use that platform, that voice, to raise awareness of the LGBT community in whatever country that you're in."
Collins was the first openly gay player in the NBA. He retired in November.