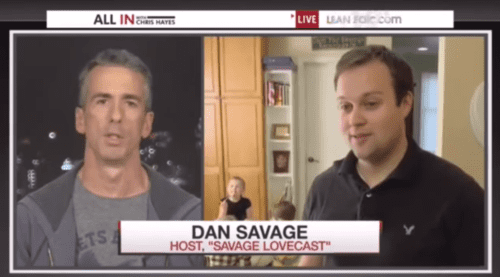 Dan Savage appeared on Chris Hayes' MSNBC show last night to discuss the unfolding drama surrounding reality TV's Duggar clan in the wake of allegations that Josh Duggar sexually abused five underage girls over a decade ago. 
Highlighting the family's long-standing anti-LGBT activism under the guise of protecting families, Savage pulled no punches:
"Particularly when religious conservatives want to talk about it, they want to point a finger at non-family. They want to point a finger at people that they define as the enemies of families or not from or having families of their own – LGBT people, particularly trans people increasingly with these anti-trans bathroom bills. And that is what the Duggars have dug in on is attacking trans people and opposing this LGBT civil rights bill in Fayetteville where they were out there arguing that the threat to little girls in Fayetteville were transwomen when they knew, when they were covering for someone who had demonstrated, at least at that age, was a threat to little girls himself.
Watch, AFTER THE JUMP…
[h/t Mediaite]