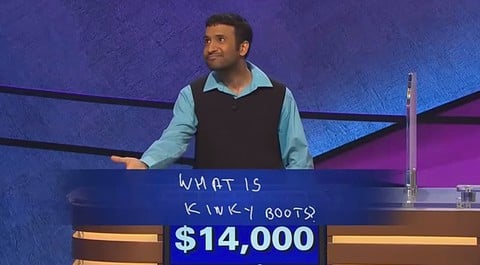 Jeopardy! may have just witnessed the pithiest wrong answer in its history.
Recently, in a round of Final Jeopardy, contestants were given the category, "Hymns" with the clue, "A Christian hymn and a Jewish holiday hymn are both titled this, also the name of a 2009 Tony-nominated musical." Viral sensation Choyon Manjrekar didn't know the answer so decided to go with, "Kinky Boots."
Host Alex Trebek quipped, "Whenever people go to temple or go to church, they sing 'Kinky Boots.'"
The correct answer was "Rock of Ages."
TIME reports on the story behind Manjrekar's wrong answer:
In an interview online with contestants after the episode aired, viral sensation Choyon Manjrekar of Providence, R.I., explained, "Musicals aren't exactly my forte…That's the first thing that came to mind…It was either that or the Book of Mormon, but I guess that wasn't a Jewish book…so I panicked and put down something…The moral of this story is bone up on musicals next time."
Watch the hilarious video, AFTER THE JUMP…