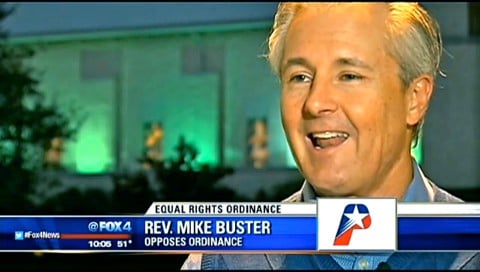 LGBT advocates are calling on the IRS to investigate a Southern Baptist megachurch in Plano, Texas, over a clergy member's involvement in last week's City Council elections. 
Mike Buster, executive pastor at Prestonwood Baptist Church — also known as "Six Flags Over Jesus" — reportedly sent an email to 2,500 church members endorsing candidates who oppose the city's Equal Rights Ordinance, which was approved by the council in December. 
Prestonwood Baptist, with tens of thousands of members, was ground zero for organizers of an unsuccessful petition aimed at repealing the Equal Rights Ordinance. Two candidates endorsed by Buster who oppose the ordinance won contested races on Saturday.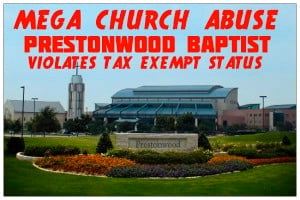 "It is the responsibility of the IRS to investigate any potential wrongdoings and violations and we believe the executive pastor's endorsement … is a clear and blatant violation," said LGBT activist Sean Sala, who launched a Change.org petition. "The IRS needs to investigate this fully."
One of the Plano candidates who won Saturday's election, Ron Kelley, runs a nonprofit ministry at Prestonwood Baptist. Both Kelley and Tom Harrison, who also won a seat on the council, decided to run in response to the ordinance. From The Dallas Morning News:  
Kelley and Harrison say they would be independent voices and were galvanized to enter local politics because of the Equal Rights Ordinance that was approved in December. Petitions to have an election on the measure were deemed invalid by the city.

"That issue should have been put on the ballot," said Kelley, who runs a nonprofit ministry at Prestonwood Baptist Church. "The citizens of Plano should have had a right to decide."

Harrison agrees, saying the measure was passed without adequate notice to citizens. "They ignored the people," Harrison said. "It's a transparency issue."
In February, Buster called the ordinance a "travesty" and suggested businesses should be free to discriminate against LGBT people, according reports from Fox 4:   
"Anytime you criminalize people of faith in the workplace by handcuffing them and not allowing them to make decisions and to serve the people that they want to serve and to hire the people they want to hire, you are stripping them of religious freedom," said Rev. Mike Buster.
WFAA-TV investigated Buster's email last week: 
Referring to Kelley, Pastor Buster writes in the e-mail:

"We need to make sure we are electing local leaders who support our Christian values and who stand for the people."

Kelley is with Prestonwoood's ministerial staff and is director of the Prestonwood Foundation. Pastor Buster ends the e-mail writing:

"Let's send a statement that it is time for 'We the People' to take back our city!"
Experts said although Buster's email raises red flags, it's unlikely the IRS will get involved. 
Watch WFAA-TV's report, AFTER THE JUMP…