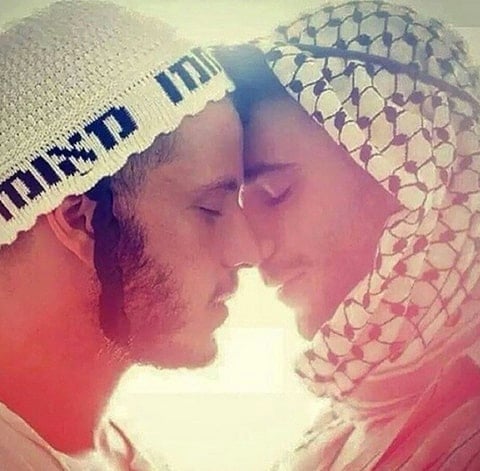 No stranger to controversy, Madonna has once again found herself embroiled in a fevered internet debate, this time over one of her recent Instagram posts that appeared to depict a young Orthodox Jewish man and Palestinian man about to kiss. She captioned the photo, "This image is 💯. ❤️#rebelhearts". However, though the intent of Madonna's posting may be unchanged, the reality behind the photo is that it was first created to promote a gay party, as Forward.com reports:
The photo is actually of two Israeli Jews: Imri Kalmann, 28, and Dekel Aiden, 24, two Tel Aviv party promoters who host a periodic gay club party called Dreck.
"I am not really Orthodox and he is not really Palestinian," said Kalmann.
The picture first appeared last summer on a poster promoting a Dreck party in Tel Aviv. Kalmann said his team planned on something racier, but changed its concept after the start of Israel's war with Gaza.
"We decided to do a photo shoot to say something that we feel regarding the war."
Some commenters on Instagram were not pleased with the lack of authenticity behind the photo:
"You do not know at all what is happening here in Israel. Do not post such a picture here again," one wrote.
Others were supportive: "Love is love my friends — doesn't matter if you are Jewish or Muslim or whatever."
The gay party that the photo was originally intended to support, Dreck, has also come under fire for using imagery familiar in ISIS' beheadings to promote its parties.