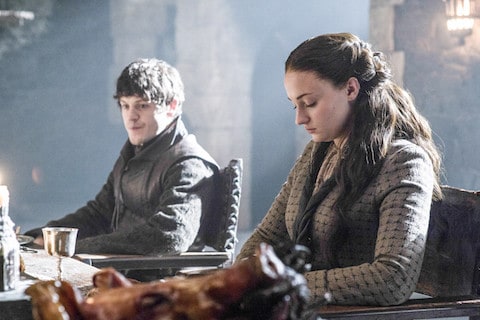 Even though tonight's Game of Thrones episode, titled "Kill the Boy," had a few key revelations and surprises, it felt a little disappointing to not see any updates from King's Landing. Also missed tonight, any scenes with young Arya Stark (Maisie Williams).
That doesn't mean we were short on action. There was one particularly gruesome moment in Meereen, plus a thrilling battle in Valyria.
Let's hash out the details, AFTER THE JUMP …
Meanwhile, In Meereen …
Daenerys (Emilia Clarke) is mourning the loss of her trusted advisor, Barristan the Bold (Ian McElhinney), and she is pissed. She rounds up the heads of the important Meereen families, including another of her advisors, Hizdahr zo Loraq (Joel Fry). She marches the men to her captive dragons, allowing one of them to be barbecued and then ripped to shreds in front of the others. Without her advisors to guide her, she's acting out of hurt and anger. With few places to turn, she looks to Missandei (Nathalie Emmanuel) for advice and basically Missy tells her that the answers have been inside her all along. Dany visits Hizdahr zo Loraq in his cell to tell him that she's opening the fighting pits for free men. Oh, and also, she's going to marry him.
Say what?!
Oh, and Grey Worm (Jacob Anderson)? Still kicking. He was way bummed about falling in battle, but he still loves Missandei and they kiss and it's all very sweet.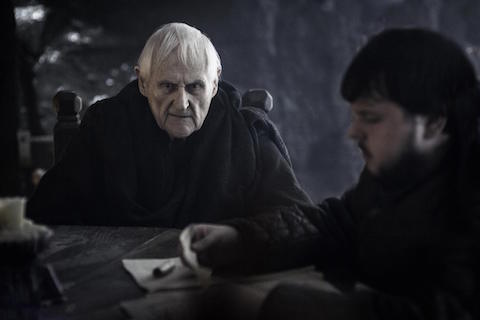 Meanwhile, At Castle Black …
Jon Snow (Kit Harrington) has a great plan. Super good plan. He's going to round up all the remaining Wildlings and invite them to settle south of the Wall and fight with him along with Stannis (Stephen Dillane). It's not the most popular decision among the rest of the Night's Watch, but he's got a good reason to do it: If he doesn't save the Wildlings, they'll be defeated by the White Walkers and get absorbed into their army of the undead.
He loops his prisoner Tormund Giantsbane (Kristofer Hivju) into the plan, but Tormund's condition is that Jon ride with him to plead his case to the rest of the Wildlings.
Stannis isn't waiting for them to return. He sets off for Winterfell to take it back from the Boltons.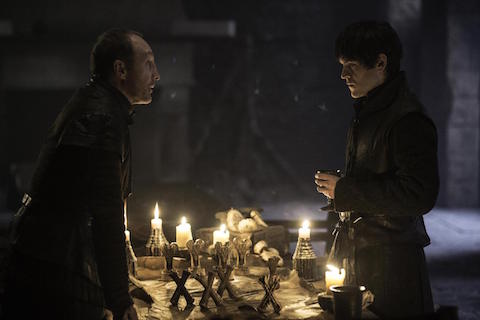 Meanwhile, At Winterfell …
Ramsay Bolton (Iwan Rheon) is making sexytimes with his sidepiece Myranda (Charlotte Hope). She's the jealous type, so later she marches Sansa (Sophie Turner) through the kennel to come face to face with Theon (Alfie Allen). He confesses their meeting to Ramsay later, which is just the tidbit Ramsay needs to create some really awkward dinner conversation. Over their meal, he makes Theon apologize to Sansa for murdering her brothers. Then Ramsay decides that he's going to have Theon give Sansa away at their wedding. Very cool of you, Ramsay.
If that wasn't uncomfortable enough, Ramsay's dad Roose (Michael McElhatton) announces that his wife Walda (Elizabeth Webster) is pregnant. And he thinks it's a boy. That doesn't sit well with Ramsay. Since Ramsay is known for his compassion and very sane, rational decisions, I'm sure he won't try to super murder his new stepmom and the little brother she's got in there for him.
Elsewhere, an elderly servant reminds Sansa that she still has friends in the North. If she ever needs any help she can light the friend signal, which is just a candle in the highest window in the tower.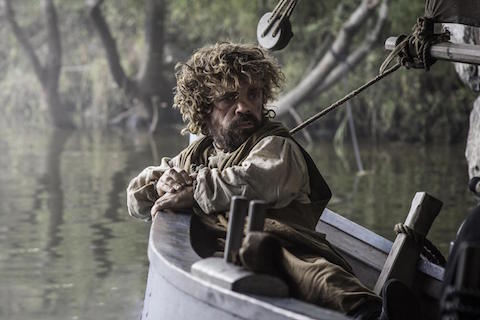 Meanwhile, In Valyria …
Tyrion (Peter Dinklage) and Jorah (Iain Glen) are still rolling, rolling, rolling on the river. They drift right into Valyria, but while they are super excited to see Drogon the dragon flying above, they're ambused by Stone Men. Jorah warns Tyrion to not let the Stone Men touch him, which leads to Tyrion falling overboard to avoid their deadly touch, only to be dragged toward the bottom of the sea by another one of the attackers. Jorah manages to free him, but not without a price. It's revealed to us (but not Tyrion) that Jorah's been touched and has a spot of the grey scale.
What did you think of the episode?