Taylor Swift's "Bad Blood" music video has set a new Vevo record, garnering 20.1 million views in 24 hours.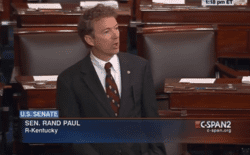 POLITICO dissects Rand Paul's 10 1/2 hour "filibuster" last night against government surveillance. "His decision to speak while the Senate was still dealing with a trade bill, in some ways, gives Paul the best of both worlds: commanding the Senate stage for hours on end without antagonizing the Republican leader from his home state — who has been a key ally — or jeopardizing his colleagues' vacation plans."

 Matt Bomer flaunts his magic muscles while on vacation with husband Simon Halls. 

 The BBC looks at why Ireland is having a national referendum on same-sex marriage. "Many question the wisdom of putting the rights of a minority up to a vote of a majority. Furthermore, there is some dispute about whether a referendum is legally necessary; after all, other countries have simply changed the law. But Ireland has quite an extensive written constitution and it can be amended only by process of national referendum. The constitution does not define marriage as being between a man and a woman, but there is uncertainty over whether any legislation extending marriage rights could be open to legal challenge in the Supreme Court. It is likely that a cautious government opted for direct engagement with the electorate by referendum rather than running the gauntlet of producing legislation on marriage equality, which could have been struck down by the courts and then would have needed to be put to a referendum in any case."

 Barbra Streisand to pen memoir in 2017.  

 Gay rodeo tests tolerance in Arkansas. "For years, no one would allow us to advertise it," said Sandy Bidwell, president of the Diamond State event, for fear protesters would create a disturbance. "My attitude is, let them. It's free advertising." This year, they put up a sign directing traffic to the event, and no protesters came.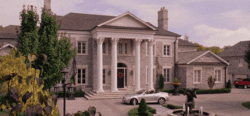 Regina George's Mean Girls mansion is up for sale for $14.8 million. Get in loser, we're going shopping.

 J.K. Rowling and Matthew Lewis have funny Twitter exchange over the actor's sexy photo shoot with Attitude. 

 Is Brad Pitt a secret bisexual?  

 Mike Huckabee pens op-ed in the Des Moines Register announcing he will not participate in the Iowa Straw Poll later this year, saying the vote "will serve only to weaken conservative candidates and further empower the Washington ruling class and their handpicked candidates." You'll recall Michele Bachmann won the poll back in 2011 before finishing sixth in the Iowa caucuses five months later. 

 Sen. Claire McCaskill is "done" with Game of Thrones. 

 Pitch Perfect star Rebel Wilson caught lying about her age and background. 

 Fox and CNN set the criteria for the first two GOP debates. "Fox will accept the top 10 contenders, based on their poll numbers, for the first debate in Cleveland Aug. 6. Entrants must have formally registered for a presidential campaign with the Federal Election Commission and have paid all necessary federal and state filing fees. CNN announced a two-tier system for its Sept. 16 debate at the Ronald Reagan Presidential Library in Simi Valley, Calif. The top 10 candidates will debate in one group, and the remaining candidates will face off in another. Each candidate must poll at 1 percent or higher. CNN requires debate participants to have at least one paid campaign staffer in two of the early voting states and have visited two of those states at least once."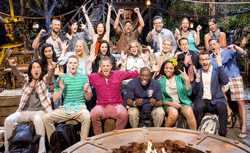 See which returning players made the cut for Survivor Cambodia: Second Chance. 

 From contraception to gay nuptials,  The New Yorker examines the Supreme Court's ongoing debate over privacy, reproduction, and marriage. "The coincidence of the fiftieth anniversary of the Court's ruling in Griswold and its anticipated decision in Obergefell makes this, inescapably, an occasion for considering the past half century of legal reasoning about reproductive and gay rights. The cases that link Griswold to Obergefell are the product of political movements that have been closely allied, both philosophically and historically. That sex and marriage can be separated from reproduction is fundamental to both movements, and to their legal claims."

 Ultra-orthodox Israeli press edits out female lawmakers from photographs.

 With the takeover of the city of Palmyra, the Islamic State now controls over half of Syria.