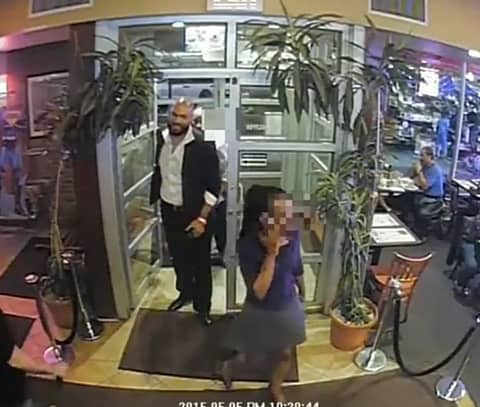 The NYPD says it has identified the suspect involved in an assault on a gay couple in the Dallas BBQ restaurant in Chelsea as Bayna El-Amin, ABC 7 reports:
Detectives have been tracking him for about a week, but have not been able to take him into custody. They will put out his picture later Tuesday.
"I have him identified, we are seeking him now. He's been identified for about a week. We will see if we can get him in," said NYPD Chief of Detectives Robert Boyce. "He is a career criminal. We believe he has fled the state."
Bayna shouted anti-gay slurs at the men before hitting them with the chair, according to police.
El-Amin has 18 prior arrests spanning back to 1993, police said. All but two of those incidents took place out of state.
He has arrests on record in Georgia, Michigan, North Carolina, Alabama and New Jersey for assault, shop lifting, drug possession, credit card fraud, forgery and possession of stolen property. El-Amin's two most recent arrests took place in New York state in April 2012 and October 2013, but both cases were sealed, police said.
Bayna El-Amin's Facebook appears to have been deleted, but Google's cache for the page shows that he says he works in "Personal Security for Sketchie ENTertainment," a nightclub promotion company. Both people who answered the phones at the phone numbers listed on Sketchie's Facebook page said it was the wrong number. An email to Sketchie has not received a response.
Police released surveillance video of the suspect on May 7, one day after disturbing video emerged of a brawl inside the restaurant during which Jonathan Snipes was cracked over the head with a wooden chair.