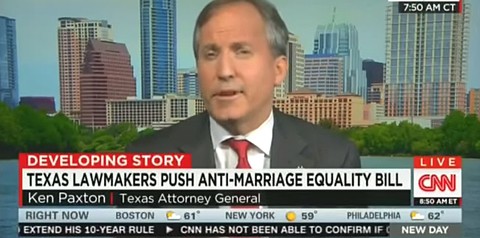 Texas Attorney General Ken Paxton appeared on CNN's New Day yesterday to defend a number of anti-marriage equality bills pending in his state legislature. One bill, the "Pastor Protection Act", would prevent churches and pastors from being forced to participate in gay weddings. The other, more dangerous bill, says "the state may not issue, enforce, or recognize a marriage license or a declaration of an informal marriage for a union other than a union between one man and one woman."
Paxton defended both bills and was asked how Texas would behave when the SCOTUS ruling comes down.
Asked anchor Alisyn Camerota: "Texas would have to conform to the federal law, yes?"
Paxton: "If the Supreme Court is making the ruling on marriage, we deal with that all the time."
Camerota: "Meaning what? Meaning that you would, that Texas would have to conform to the Supreme Court.
Paxton: "Again, we would have to see how it worked. We would have to see exactly how that opinion is written, versus how this law is passed….I don't know how those two are going to fit together or if somehow they'll be in direct opposition."
There is a bit of hope, however, the Austin Statesman reports:
Democrats became increasingly confident Wednesday that they can run out the legislative clock, killing a bill designed to make it difficult, if not impossible, for same-sex Texans to wed — even if the U.S. Supreme Court rules otherwise.
If Democrats can keep House Bill 4105 from receiving a floor vote before a midnight Thursday deadline, the anti-gay-marriage legislation would die — along with about 200 other bills scheduled for action behind it.
Watch, AFTER THE JUMP…