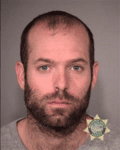 Over the weekend Portland police found Daniel Svoboda attempting to scale the face of a local gay bar in broad daylight, apparently attempting to steal the establishment's gay pride flag.
Authorities discovered Svoboda 14 feet in the air, clinging to the drainage pipe attached to Silverado, which is located in Portland's Old Town neighborhood.
According to the officers that arrested him Svoboda appeared to have been confused and disoriented at the time of his arrest. It's unclear exactly why he was trying to steal the flag.