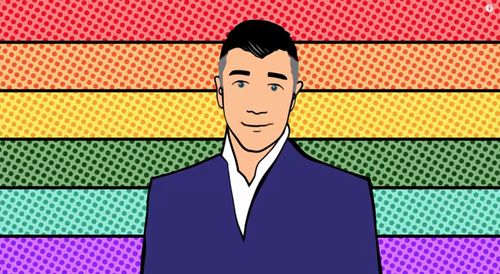 Ivan Massow, a 47-year-old gay, Tory-supporting, entrepreneur, activist and media personality, has launched a campaign to be the next mayor of London. Massow made the announcement in a colorful video explaining who he is:
"I'm gay, I'm an ex-alcoholic, I'm dyslexic, I'm adopted, I'm an activist, I'm a businessman, I'm a disruptor, I'm a doer. I'm not your typical 'politician' politician. I believe London needs someone who understands the issues normal people face. Someone who takes the Tube. Someone who hates sitting in traffic. Someone who hates red tape. Someone who hates politics as normal."
"Massow, 47, said the 70-second pop art-style animated video gave an 'honest warts-and-all' portrayal of him….Massow said he would be spending 'significant' sums of money on advertising on Facebook and Twitter in his campaign. He urged Londoners to use the Twitter hashtag #tellivan to let him know what they want him to do as mayor. Brighton-born Massow has lived in the capital for 25 years and in the 1990s briefly shared a Mayfair home with the now senior Tories Michael Gove and Nicholas Boles…He has previously said he stopped drinking after an intervention by Joan Collins when he stayed at the actor's St-Tropez villa."
Watch Massow's opening video, AFTER THE JUMP…