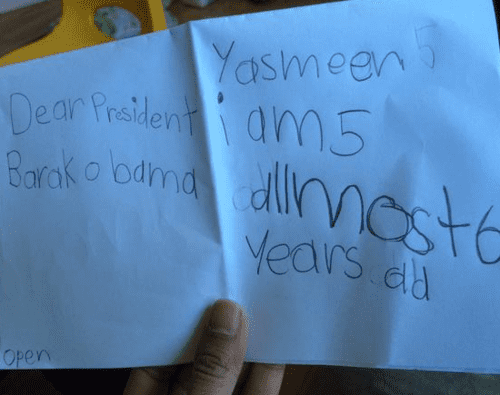 (Twitter)
A 5-year-old girl got a sweet surprise after her presidential plea for marriage equality was answered by the POTUS himself, People reports:
The letter was written by a child named Yasmeen and reads in part, "I am 5, almost 6 years old. Please stop war for our world, instead have a meeting. Please give a speech to tell everyone that can marry who they want. Thank you." 
Yasmeen's aunt photographed the letter and posted it on Twitter, tagging the President's new account in it and writing, "Out of the mouths of babes!" 
@POTUS A letter from my 5 year old niece. Right out of the mouths of babes! pic.twitter.com/Q8Sovz8eEL

— Dr Z (@DrFahmida) May 22, 2015
Obama replied:
.@DrFahmida tell your niece I really like her letter. Couldn't agree more!

— President Obama (@POTUS) May 22, 2015
That letter definitely belongs on the fridge!