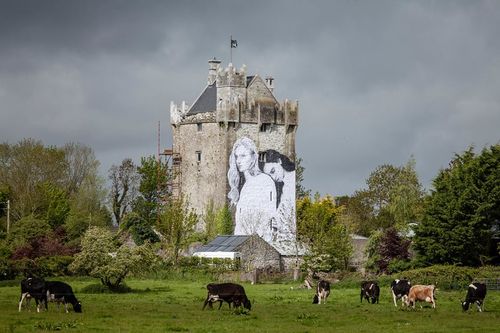 Muralist Joe Caslin has struck again, this time on the side of a 15th century castle outside Galway, Ireland.
You may recall Caslin's jaw-dropping mural featuring two men in an embrace on the side of a building in Dublin, which later came down because of city code.
Photographer Davey Sexton captured the countryside mural, which this time features two women.
The Irish Times reports:
The biodegradable image was installed on to the side of a 15th century tower house castle, with permission from the owner, using a potato-based adhesive so as to not mark the listed building. The drawing took a week to make, and was then blown up using an architectural printer, "We pushed this one right to the edge," Caslin said, "this is 14 metres tall and we're a bit over capacity on the length of it." He worked with photographer Seán Jackson on the project.
Caslin said he wanted to compliment the "very urban" male piece in Dublin with an "insanely rural" female piece.
"I didn't want to have the piece of the two lads up and not follow it up with a female version," he said, "I wanted to show the broader aspects of relationships."
Irish voters go to the polls to vote on the nation's marriage referendum this Friday.