The Supreme Court has turned down the hideously anti-gay Liberty Counsel's challenge to New Jersey's ban on "ex-gay" therapy for minors, the Washington Blade reports.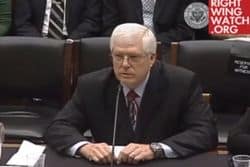 The U.S. Third Circuit Court of Appeals had previously upheld the constitutionality of the statute, prompting a petition before the Supreme Court.
Said Third Circuit Judge Dolores Sloviter following that earlier ruling: "The listener's right to receive information is reciprocal to the speaker's right to speak. The fundamental rights of parents do not include the right to choose a specific type of provider for a specific medical or mental health treatment that the state has reasonably deemed harmful."
The Blade notes the high court also declined to take up a lawsuit seeking gender reassignment surgery for a transgender inmate.