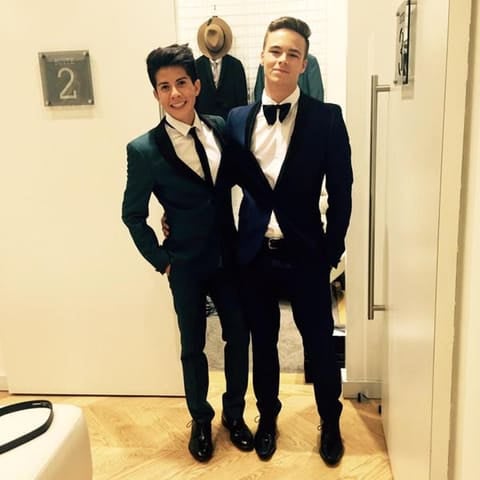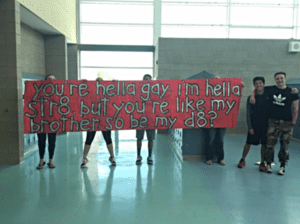 You will likely recall a story we brought you last month of of a gay teen near Las Vegas, Nevada receiving an adorable "promposal" from his straight best friend. Anthony Martinez had wanted–badly–to go with a guy to prom and took to Twitter to make his desire known. It was Anthony's tweet that caught his straight best friend Jacob Lescenski's attention. Jacob decided he would ask Anthony to prom and do it in a big way. He had his friends help make a giant poster for Anthony that read, "you're hella gay, i'm hella str8, but you're like my brother, so be my d8?" The promposal went viral and even landed the duo on Ellen. 
Now, Teen Vogue has tagged along with Anthony and Jacob to document their prom night, meet their families and find out a little more about their friendship. 
RELATED POST: Ellen Has a Surprise for the Straight Guy and the Gay Best Friend He Invited to Prom.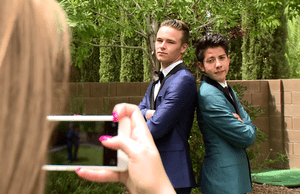 Though heartwarming, their story is not without reminders of prejudice. One of Anthony's family members had planned to get Anthony a cake that read, "You're gay, he's straight; you're going to prom, you couldn't have had a better date" but the bakery refused to make the cake because it had the word "gay" in the writing. 
Talking about the experience, Jacob says, "I expected people to say, 'This is different. This is not OK.' But it is OK. And that's what we're trying to prove."
Watch as the boys shop for tuxes, talk about their friendship and enjoy the big night, AFTER THE JUMP…
I was more then positive he was going to drop me. That is a smile of fear. pic.twitter.com/QTUKD4TM6z

— AnthonyseXC (@anthonyseXC) May 5, 2015
Make sure not to miss a Towleroad headline by following @TLRD on Twitter.