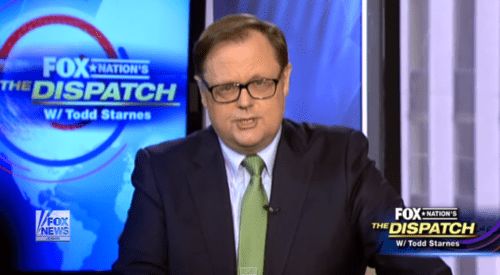 Fox News correspondent Todd Starnes wasn't at all pleased with Face the Nation's Bob Schieffer after the CBS moderator, while introducing FRC president Tony Perkins onto the show last Sunday, noted: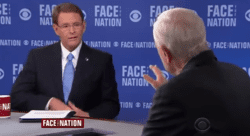 "Mr. Perkins, I'm going to say this to you up front. You and your group have been so strong in coming out against gay marriage that the Southern Poverty Law Center has branded the Family Research Council an anit-gay hate group. We have been inundated by people who say we should not even let you appear because in their view you quote "don't speak for Christians.'"
In his daily "American Dispatch" segment a few days ago, Starnes fired back saying:
Now it would be easy to dismiss Mr. Schieffer's ignorance as nothing more than sloppy journalism. But we're not talking about a local cable access show. We're talking about Face the Nation. Tony Perkins is my friend. He is a good and decent and honorable man and he deserves better. 
By notifying viewers of Perkins and the FRC's hate group status, Schieffer was just doing his job and pointing out a simple truth. And we all know that type of journalistic credibility isn't tolerated over at Fox News.
Watch Starnes blow up over nothing, AFTER THE JUMP…