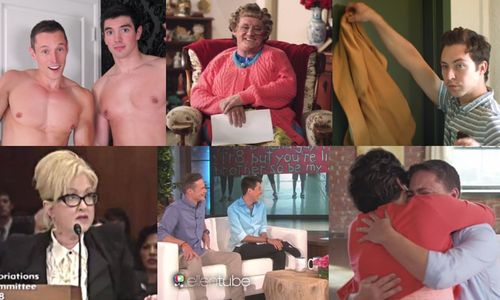 Need a refresher on all the informative, uplifting, sexy, and entertaining LGBT videos from this past week?
Look no further as we count down the best of the best, AFTER THE JUMP…
10. Jon Stewart Dismantles the 'Anti-gay Cray Cray' Arguments Against Marriage Equality at SCOTUS
Jon Stewart wasn't persuaded in the slightest by the anti-equality arguments made to the Supreme Court this week in the gay marriage case and made his dissatisfaction with the haters known in a Daily Show segment titled "You Got Nothing'"
9. Dan Savage Makes a Compelling Argument Against Sexual Monogamy on StarTalk
Sex columnist Dan Savage explained to Neil DeGrasse Tyson the difference between social and sexual monogamy on a recent sex-centric episode of StarTalk.
"All of these birds we used to look to and think 'why can't we be monogamous like birds," Savage lays out. [We assumed] they would mate for life and we would measure our failure as humans to live up to the standards set by these damned birds. Well along comes genetic testing and we find out that these birds are screwing around with each other constantly."
8. PFLAG Canada's Stunning Tribute to the Gay Couples of the Past Who Were Never Able to Legally Marry
This video tribute to all the couples of the past who were never allowed to marry by law is sure to leave a lump in your throat.  
7. Steve Grand Gets Stripped Down and Oiled Up by Davey Wavey
Singer-songwriter Steve Grand stopped by vlogger Davey Wavey's house to do some real musical promotion for his album since much of the promotion he receives is not for his music, but for his looks. Things didn't go quite as expected.
6. Ireland's Comedic Matriarch Mrs. Brown Asks 'What's All The Feckin Fuss' About Gay Marriage
Brendan O'Carroll, one of Ireland's biggest TV stars, has released a video in the guise of fan-favorite character Mrs. Brown supporting same-sex marriage. The video is lighthearted and funny and gives us all hope that the Irish public will come out strongly on the side of equality later this month. 
5. How Gay Guys React to Each Other When Straight People Aren't Around
Our secret is out you guys…
4. Cyndi Lauper Lets Her True Colors Shine in Passionate Senate Speech on LGBT Youth Homelessness
At a Senate subcommittee hearing this past week, singer and gay icon Cyndi Lauper delivered a passionate speech on the ongoing effort to end youth homelessness. Shockingly, its estimated that LGBT youth make up 40 percent of all homeless children.
3. Matt Baume Dives Into the Arguments For and Against Gay Marriage at the Supreme Court
Don't miss Matt Baume's brilliant analysis of the oral arguments both for and against same-sex marriage at the Supreme Court this past week. In the video, Baume also shared what his favorite moment from Tuesday's oral arguments was. 
2. Ellen Has a Surprise for the Straight Guy and the Gay Best Friend He Invited to Prom
Last week we reported on Anthony Martinez, the gay student at Desert Oasis High School, who tweeted that he really wanted a guy as his date to prom. Jacob Lescenski, his straight best friend, stepped in with a "promposal" that is one of the sweetest we've ever seen.
Ellen invited the two best friends on her show to let more of the world know their story and to reward the couple for making a difference.
1. A Mother's Unconditional Love for Her Transgender Son is 90 Seconds of Amazing from Hallmark
In advance of Mother's Day on Sunday May 10, Hallmark has launched a campaign called #PutYourHeartToPaper, and its 90-second spot featuring Alex and his mother Pam is a whole lot of heartwarming.