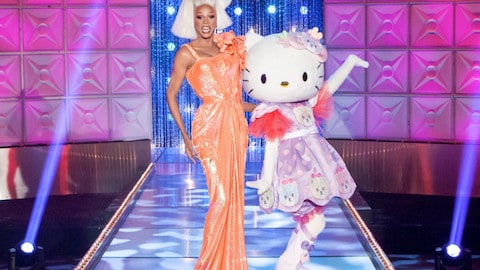 Ranking the queens on RuPaul's Drag Race is neither a science nor an art. This season especially there hasn't been a single queen that's been able to consistently dominate across a variety of challenges the way that Bianca del Rio was able to crush comedy, create custom couture and conform to a variety of scripted challenges. It's as if this season's batch of contestants has multiple leads depending on the day.
I certainly didn't see tonight's elimination coming, which says just as much about this season's roller coaster ride as it does my own terrible guessing ability.
Let's have a kiki and discuss the episode, AFTER THE JUMP …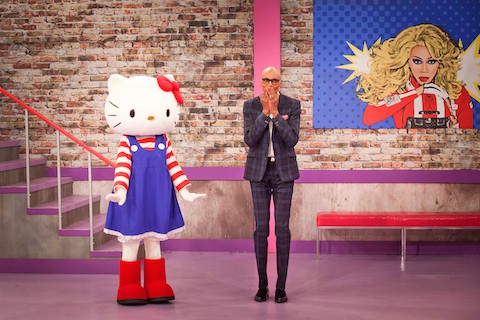 First, tonight's mini-challenge asked our remaining ladies to read each other to filth with everyone's favorite prop: puppets! It was not nearly as laugh-out-loud riotous as last season (I still chuckle thinking of Adore claiming BenDeLaCreme covers her eyebrows in oatmeal or Ben shrieking as Bianca "I live in New York! I work all the time!"), but Pearl nailed her Kennedy puppet's rhinestone-covered burned chicken eleganza and Kennedy's forgetting to make her Pearl puppet's mouth move could've been a successful artistic choice, reflecting Pearl's mumble-core allure. Ginger won the challenge, giving her Violet puppet just the right amount of vanity, even if the voice was off.
The main challenge brought out beloved Sanrio character Hello Kitty as the ultimate symbol of branding. The queens would have to use some Hello Kitty swag to craft unique looks that reflect their style. Then, as a twist, they were asked to create a new character to fit into Hello Kitty's world, complete with an oversized mascot head. It was adorable.
How'd they do? Check out our completely biased personal rankings below, and share yours in the comments.
1. Violet Chachki sure picked the right time to surge in this competition. Whether or not she's gotten better or the challenges have just suited her skill set better could be argued either way. All that matters now is that she's broken out from the pack over the last few design-heavy weeks with some of the best looks of the season. I'm still not convinced she'll take the crown in the finale, but, at this point, no one else seems like a clear winner.
2. Remember back when Ginger seemed like she had this whole competition in the (Hello Kitty-branded) bag? That was before the girls were asked to sew so much. Lucky for her, she was able to shine by using her wit to cleverly create a character that helped to elevate her campy Kitty couture. Though Ginger doesn't seem like such a preordained champion, a top-three finish still feels sort of like a lock.
3. Good gracious, Kennedy Davenport, that was one gravity-defying lip sync and the exact sort of powerhouse performance that she foreshadowed when she slayed the crowd at the New York City season seven premiere. Even though I would not have picked Kennedy over Katya in a broader review, there was no way after that lip sync that anyone could tell Kennedy to sashay away. Regardless of her basic Kitty character and bow-tiful one-piece, that lip sync put a firm stake in the ground that Kennedy is not going down without a fight.
4. Although I think audiences may have adapted to Pearl's #flahsayda attitude, can she channel the creativity she brings to the runway and her sly sense of humor into a showing that has the impact of the other remaining ladies? Her Kitty character was definitely on-brand to her ratchet-hipster Brooklyn aesthetic, and she successfully made quite the chic ensemble out of what looked like a very drugstore Snuggie rip-off. However, the competition is so tight now that we're down to just a handful of queens and someone's got to go next.
5. Katya can probably rest easy knowing she'll at least walk away with the title of Miss Congeniality at this season's finale. Her look tonight was the least cohesive of the bunch, but it still wasn't a disaster. Against, say, Pearl, Katya might have walked away from tonight's runway still in this thing, but no one was going to make it out of that head-to-head with Kennedy. (I'm surprised the walls were still standing, to be honest.) I'll miss her quips, and especially her descriptions of her runway looks each week.
How would you rank the queens?