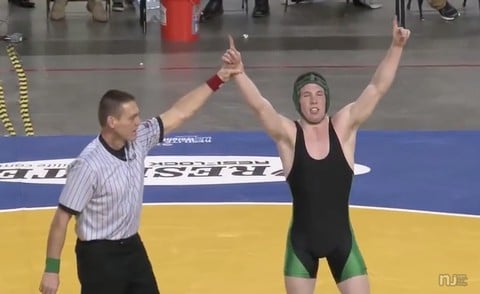 New Jersey's high school state wrestling champion Alec Donovan, "ranked in the top 25 of high school wrestlers in his weight class in the nation," has come out as gay, Outsports reports: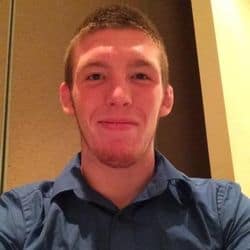 At the time this story is published, Donovan is on a recruiting trip at Cal Poly in San Luis Obispo, halfway between Los Angeles and San Francisco. Other schools – in addition to Limestone College – have come calling as well.
For Donovan, the importance of being with a program that wants him for who he is – and the opportunity to help other LGBT athletes walking down the path he was on just three years ago – far outweighs any risk this story might pose.
According to Outsports, Donovan came out on the Limestone College recruiting trip when a fellow recruit asked if he was bisexual:
"The rumor isn't true," Donovan told the other recruit. "I'm not bisexual… I'm gay."
The recruit was "cool with it" and found it fascinating. He asked Donovan if he could tell the guys on the Limestone team who were recruiting them. Donovan didn't care. He had accepted who he was. Fear had left him.
"It's better that everybody knows anyway, so I don't end up on a team that doesn't want me for all of me."
Donovan says that just three years ago he was considering suicide and made it through the next three years with the help of a friend and two fellow wrestlers he confided in about his sexual orientation.
He's now involved in an anti-bullying group at Brick Memorial High School and is trying to decide which college he'll wrestle at next year.
Watch Donovan's state champion final wrestling match, AFTER THE JUMP…
Donovan is the second high-profile wrestler to come out in recent months. In March, Ohio State National Champion Mike Pucillo came out as gay.