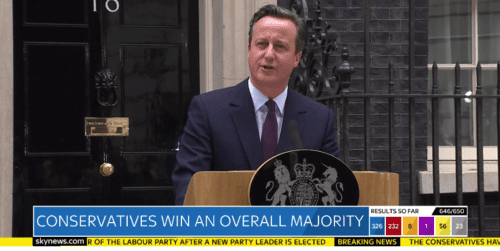 Speaking outside 10 Downing Street the day after his election night victory, UK Prime Minister David Cameron reflected on his previous coalition government and looked ahead to his Conservative Party's majority government.
Said Cameron:
"I truly believe we are on the brink of something special in our country. We can make Britain a place where a good life is in reach for everyone who is willing to work and do the right thing. Our manifesto is a manifesto for working people. And as a majority government, we will be able to deliver all of it. 
Watch a portion of Cameron's speech, AFTER THE JUMP…
The Scottish National Party (SNP) took 56 of Scotland's 59 seats in the Westminster parliament. For more on the UK general election, check out POLITICO's "10 Early Take-Aways from the UK Elections".