Far from the first Trump Hitler Connection .
During her divorce, Ivana noted that Trump kept books of Hitler's speeches in the bedroom and read them before bed in a 1990 Vanity Fair profile.
Tina Brown, former editor of Vanity Fair and New Yorker spoke of Donald Trump pouring wine down the back of a reporter who noted a book of Hitler's speeches in his office.
In 2016 it was reported that not one, but two new compilations of Hitler's speeches had astonishingly, images of Trump on the covers.
And, of course there are many comparisons of Trumps political trajectory and strategies to those of Adolf Hitler. Like the preponderance of Russians floating around the campaign, it's hard to imagine a benign intention for a man fascinated with absolute power and little else.
Towleroad Editor.
Published by
AFP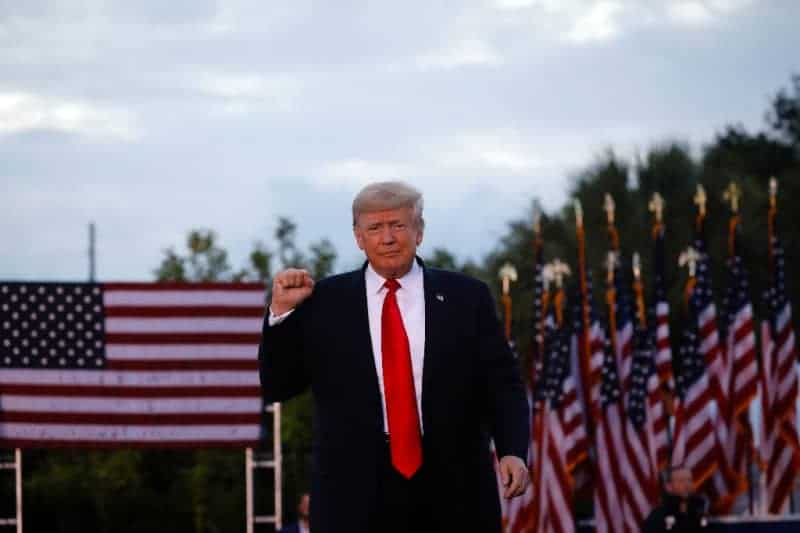 Former US president Donald Trump reportedly told his chief of staff that 'Hitler did a lot of good things,' according to an upcoming book
Washington (AFP) – Donald Trump, during a visit to Europe while US president, told his chief of staff that "Hitler did a lot of good things," The Guardian newspaper reported on Wednesday, citing an upcoming book.
Trump's then chief of staff John Kelly was reportedly "stunned" by the remark.
The exchange is recounted in the upcoming book, "Frankly, We Did Win This Election," by Michael Bender of The Wall Street Journal, the British newspaper said.
The Guardian said it had obtained a copy of the book ahead of its publication next week.
Trump reportedly made the comment while Kelly was giving the president an impromptu history lesson during a 2018 visit to Europe to mark the end of World War I.
According to the book, Kelly had "reminded the president which countries were on which side during the conflict" and "connected the dots from the first world war to the second world war and all of Hitler's atrocities."
"Well, Hitler did a lot of good things," Trump reportedly said.
Kelly reportedly "told the president that he was wrong, but Trump was undeterred," emphasizing German economic recovery under Hitler during the 1930s.
"Kelly pushed back again," the Guardian quoted Bender as writing, "and argued that the German people would have been better off poor than subjected to the Nazi genocide."
Kelly told Trump that even if his claim about the German economy under the Nazis were true, "you cannot ever say anything supportive of Adolf Hitler. You just can't."
The Guardian said Bender has interviewed Trump since he lost the November 2020 election and the former president has denied making the remark about Hitler.
Kelly, a former Marine Corps general who left the White House in early 2019, has made a number of critical comments about Trump following the January 6 attack on the US Capitol by supporters of the former president.