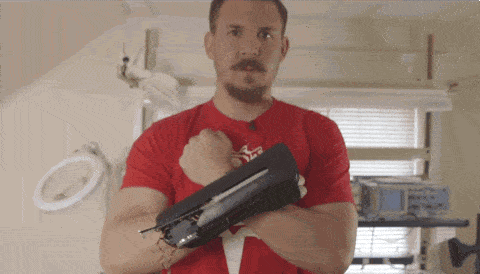 As you may have heard, Hugh Jackman plans to walk away from Fox's wildly popular X-Men franchise after the next Wolverine solo film. Jackman's played the Adamantium-enhanced mutant for the better part of the last 20 years and his departure makes sense. Who, if anyone, will inherit the iconic role after Jackman remains is anyone's guess, but it in meantime the good folks at Advancer Technologies are working on a DIY stopgap to make you the next Wolverine.
Using its new MyoWare sensor, Advancer Technologies has built a working set of retractable claws that extend out of a wrist-mounted sheath in response to when you flex your muscles.
The MyoWare sensor isn't being developed just for next-level cosplay, though. The technology built into the sensor converts the movement of flexing muscles into electric signals that can trigger movement from prosthetics, robots, and video games. Advancer Technologies is currently Kickstarting the fourth generation of its MyoWare sensor and they've already blown past their fundraising goal.
Check out Advancer Technology's Wolverine claw and Iron Man repulsor applications of its new tech AFTER THE JUMP…