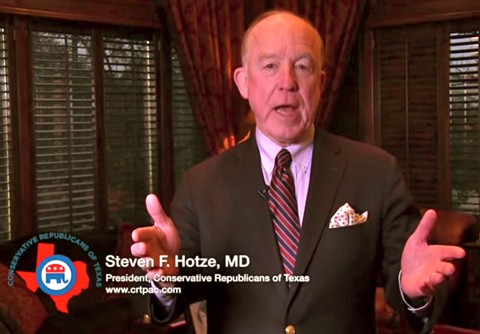 Last week, we told you how more than 20 anti-LGBT proposals died this year in the Texas Legislature, including a bill aimed at undermining a U.S. Supreme Court ruling in favor of marriage equality. 
Now, anti-LGBT activists are demanding that GOP Gov. Greg Abbott call a special session so the Legislature can pass anti-gay marriage legislation.
On Tuesday, they hand-delivered a letter to Abbott's chief of staff, according to Steve Hotze, president of the Conservative Republicans of Texas: 
"This issue is not about equality, it is about redefining marriage which would lead to individuals, families, churches, schools and businesses being forced to accept, affirm and celebrate those who practice homosexuality. It would be mandated that children be taught in the schools that homosexuality is normal and healthy. They would be encouraged to experiment with homosexuality, so that they could be easily recruited into the homosexual lifestyle. The homosexuals are intent on creating a sexual revolution that will bring moral anarchy to our society," said Hotze. "As Attorney General, Governor Abbott fought to protect Texas' sovereignty from being usurped by the federal government and the federal judiciary. We are convinced that he will continue to fight to protect Texans from having the federal courts illegitimately impose homosexual marriage on Texas," added Hotze.
Among those who signed the letter was Cathie Adams, former chair of the state Republican Party and current president of the Texas Eagle Forum, who
recently said
same-sex marriage would lead to the "end of America" if the Legislature didn't act.
The Austin Statesman reports that during a media call Tuesday night, Adams said same-sex marriage will put people out of business when they refuse to serve gay couples — even though Texas has no statewide nondiscrimination law. She also said same-sex marriage is "taking decadence to a new low level," because not even the "decaying" Roman Empire sanctioned it.
Adams said of GOP Rep. Cecil Bell, the author of four anti-gay marriage bills, that "his head was handed to him on a silver platter" by other Republicans who killed the legislation. And she said that because the Legislature failed to pass an anti-gay marriage bill, the state will "bow and scrape before one percent of the U.S. population that is homosexual."
From the Statesman: 
"Are we going to demand that Texas lead, that our governor holds to his stated conviction, that our lieutenant governor holds to his stated conviction that marriage is indeed between a man and a woman? Are we going to stand up for the Constitution of this state? Are we going to stand up for the statutes, the laws of this state and say that we must now have a special session in order to make a statement and to protect Texas from the overreach of the Supreme Court? Or are we going to decided instead to let the Supreme Court overrule the Tenth Amendment, state's rights, certainly the moral laws of millennia of history and the founders of this nation on Judeo-Christian thinking and traditions? Are we going to stand by again, as we did with prayer, as we did with life, now? Are we going to do the same thing with marriage? That is what is now facing us and we have a decision to make.

"For me …  I am supporting the call for our governor to call a special session now, or forever hold our peace. We must stand up for marriage. We must push back on this tyranny from the bench."