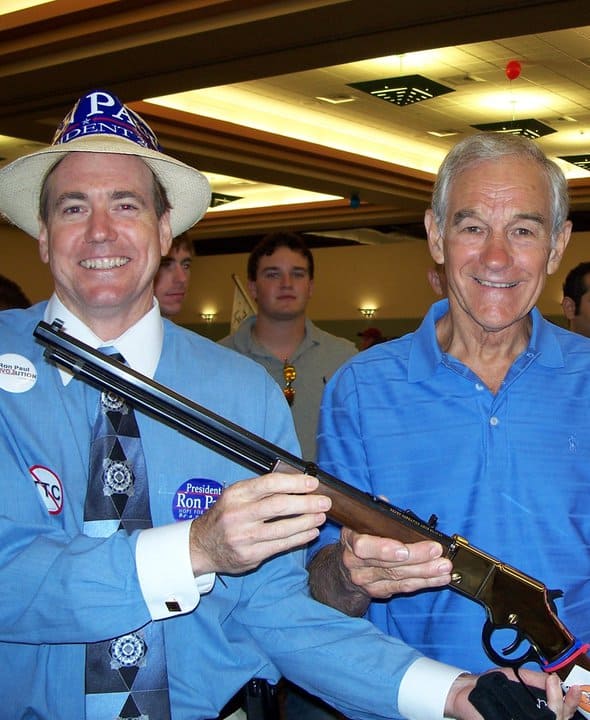 Last year, we told you how Austin City Council candidate Don Zimmerman (shown above with former Congressman Ron Paul) compared homosexuality to pedophilia.
Despite those comments, Zimmerman went on to narrowly defeat openly gay candidate Jimmy Flannigan in a runoff.
Now, Zimmerman has reiterated the comparison in response to the U.S. Supreme Court's ruling in favor of same-sex marriage.
KVUE-TV reports:
In the post on Facebook, the District 6 representative appears to compare same-sex marriages to pedophilia. Zimmerman tells another user to replace "gay" with "pedophile" and that "there is no such thing as pedophilia, only intergenerational love." Saturday Zimmerman attended a town hall event and those posts led to some tense moments.

"I couldn't believe that there's an elected official in a city, that describes itself as one of the most progressive cities in the country, that is making a moral equivalency between pedophilia and homosexuality," Austin resident Will Davies said.
According to screen grabs posted on Imgur.com, Zimmerman made the comments in response to a post that said, "If you're listening to anyone gripe about the SCOTUS ruling, tell them to substitute gay with black and ask them if they would make the same argument. It's been working wonders for me all morning."
Zimmerman responded by writing:
"Matt, replace 'pedophile', then explain how you can justify denying marriage happiness to a couple in love based on age discrimination. In fact there is no such thing as 'pedophilia', only 'intergenerational love'. Explain why you are a pedophile and why you're opposed to love and equal rights. Who gives you the right to pass judgment against those you disagree with?"
When the author of the post asked Zimmerman if he was really comparing gays to pedophiles, he responded:
"You did not answer my question of why you believe pedophilia is a crime. You didn't answer my question of why two people are denied the right to marry because of age discrimination. Until you answer my question of why you think you have the right to judge pedophilia as a crime, I won't answer you. Some believe pedophilia should be legal – what gives you the right to judge them as criminals? Why are your morals superior to theirs? Or are you waiting for the Supreme Court to decide your moral questions?"
And in response to another commenter who suggested that Zimmerman himself is a pedophile, he wrote:
"… Who gave you the right to pass judgment regarding 'age of consent'? If 'scientific studies' and the Supreme Court decide that your outdated morals regarding age of consent violate someone's right to 'intergenerational marriage', you'd be fine with that? Of course you would, because that's the basis of your morality today. So gloat on."
According to KVUE, several people who attended Saturday's town hall confronted Zimmerman about the comments:
"I'm glad you brought that up," Zimmerman responded. "Ten years ago, when we had the marriage amendment here in Texas, we had a constitutional ballot issue. I worked pretty hard on that. I spent some money, quite a bit of time. I was working on the side of defining marriage legally as one man one woman and, as you know, Travis County voted against by about 60 percent. The rest of the counties including Williamson, where we are now, and the rest of Texas voted in favor of the amendment, 70, 72 percent, something like that. …

"I have a long track record of defending the idea of marriage as one man, one woman. This debate has just started. I don't think the Supreme Court decision will solve anything," he explained. "I told you my position, I defended marriage as between man and a woman so how does your question affect District 6?"
Zimmerman's comments prompted Austin resident Mark Walters to file an ethics complaint against him:
"Due to the lack of sensitivity of Zimmerman, and this being his second ethics review is [SIC] less than six months, there is heightened concern as to whether he can represent the City of Austin in a manner that does not bring negative publicity and shame on the members of the community. I respectfully ask that a full investigation take place into this manner and that any and all sanctions be taken against Council Member Zimmerman for the egregious conduct that he has instilled upon our City."
Watch KVUE's report below.