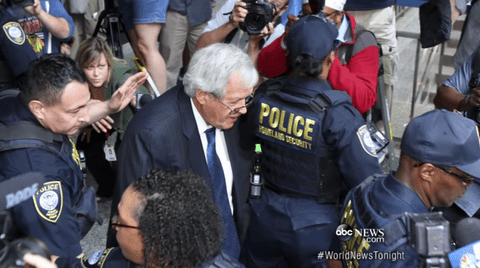 Former Speaker of the House Dennis Hastert pleaded not guilty yesterday to charges that he illegally structured bank withdrawals and lied to the authorities about millions of dollars he withdrew to pay and silence a former male student he allegedly molested.
Mr. Hastert was indicted in late May on charges of structuring cash withdrawals and lying to federal investigators in connection to what prosecutors described as an arrangement to pay a person, identified only as Individual A, a total of $3.5 million in exchange for not revealing Mr. Hastert's misconduct against that individual.
Two people briefed on the evidence uncovered in an F.B.I. investigation have said that Mr. Hastert, who once taught and coached wrestling at a high school in suburban Yorkville, Ill., was paying a former student not to say publicly that Mr. Hastert had sexually abused him decades ago. According to the indictment, Mr. Hastert, who had a lucrative career as a Washington lobbyist after leaving Congress in 2007, withdrew $1.7 million over the last four years to pay the individual.
The indictment does not include charges of sexual abuse. Legal experts said the statute of limitations had almost certainly run out on any such claims. Mr. Hastert worked as a teacher and coach in Yorkville, about 50 miles southwest of Chicago, from 1965 to 1981.
The judge in the case, who donated to Hastert's congressional campaigns, paid lip service to the questions surrounding his potential objectivity but did not recuse himself:
During Tuesday's hearing, the judge, Thomas M. Durkin of the Federal District Court for the Northern District of Illinois, acknowledged what some people have viewed as potential conflicts: He donated $1,500 to Mr. Hastert's campaigns in the early 2000s; had worked alongside Mr. Hastert's son Ethan; and is the brother of Jim Durkin, the Republican leader of the Illinois House.
Judge Durkin, who was randomly assigned to hear Mr. Hastert's case, said he would remove himself unless both sides decided later this week to waive any objections to him.
Watch a news report from ABC News on Hastert's day in court, below: