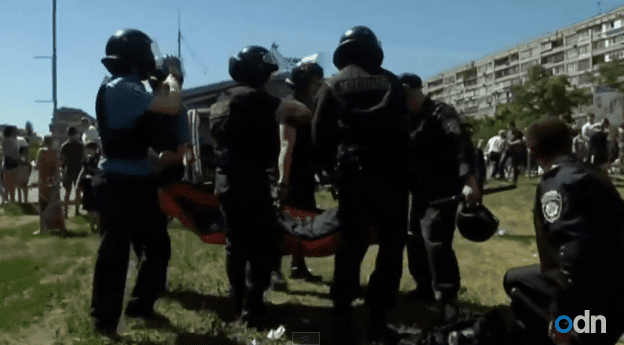 A gay pride rally in Kiev, Ukraine turned violent Saturday when several dozen neo-Nazi assailants attacked attendees and police.
Reuters reports:
Organizers for 'KyivPride2015' said the march along the Dnipro river would go ahead despite warnings from city mayor Vitaly Klitschko, who advised the event be canceled because of a threat of violence from far-right groups.
Despite the presence of several hundred police in riot gear, the march of around 150 LGBT supporters carrying rainbow banners and placards came under attack and 25-30 "hooligans" were arrested, parliament member Serhiy Leshchenko said on Twitter.
Leshchenko said police had prevented any direct clashes between participants in the march and the attackers.
This was Ukraine's second gay pride parade. The first took place back in 2013. Last year's was canceled over safety concerns.