Add Nebraska Gov. Pete Ricketts to the list of Republicans who are icked out by the idea of gay marriage but don't mind attending one (hey, who can say no to free cake am I right?)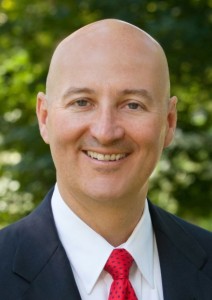 The Omaha World-Herald reports:
Gov. Pete Ricketts is fitting in a family wedding in Chicago today before leaving on a trade mission.
Ricketts will attend the wedding of his sister, Laura Ricketts. She is marrying Brooke Skinner, a brand strategist for Twitter.
Laura Ricketts was one of the leaders in the gay-rights movement in Chicago and was active in pushing for the legalization of gay marriage in Illinois, which took effect last year.
Ricketts opposes gay rights, saying in 2013 "My sister is gay. I love her, but I disagree with her on this issue." He's also the co-owner of the Chicago Cubs and gets upset when the team sponsor's pride parades in Chicago.