An actor on English soap opera Eastenders has attacked viewers who said they were "disgusted" by a kiss he shared with another male on the show earlier this week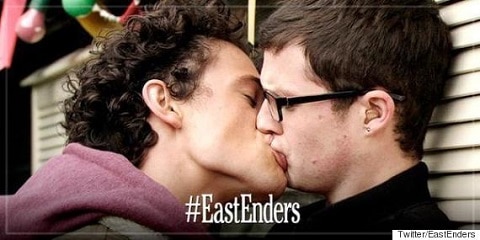 (Image via Twitter)
An actor on English soap opera Eastenders has attacked viewers who said they were "disgusted" by a kiss he shared with another male on the show earlier this week, reports Pink News.
Harry Reid's character Ben Mitchell – currently keeping his sexuality a secret from his girlfriend and family – shared a kiss with new character Paul Coker on Monday.
However, a number of viewers took to Twitter to voice their outrage over the scene.
Just in case nobody has told u yet @EriPrince95 @arlenelamond @aletales_ …you ARE homophobic http://t.co/wgrDY8bgDo pic.twitter.com/exuaL7KLrk

— Pros (@Pkakooza) June 3, 2015
Responding to the tweets, Reid shared a picture on Instagram of notorious openly bisexual London gangster Ronnie Kray.
Last year, Ben Mitchell was involved in a short-lived romance with former character Johnny Carter.
In 1986, Eastenders aired the first gay kiss on UK television.
Watch the scene between Ben and Paul, AFTER THE JUMP…