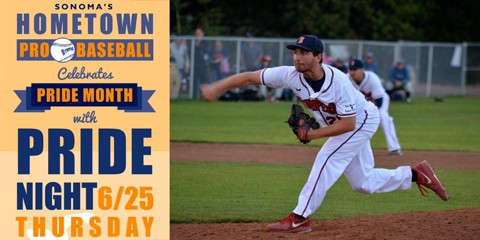 Sean Conroy, a pitcher who is among the first openly gay pro baseball players in history, will make his first start on Thursday night for the Sonoma (California) Stompers.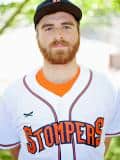 Conroy, who's been coming out of the bullpen since joining the Stompers earlier this year, will start on the team's Pride Night, which will help kick off Pride Weekend in Northern California, according to a release from the team.
The Stompers are an independent team that plays in the Pacific Association of Professional Baseball Clubs, which they currently lead with an 11-2 record. From the team's release:
"I'm incredibly proud of Sean for taking this monumental step," said Stompers President and CEO Eric Gullotta. "This is a courageous step he's taking and we're humbled that the Stompers are a small part of it."

Conroy, 23, of Clifton Park, New York, has been outstanding for the Stompers, pitching in relief during the team's first 13 games. As of June 18, Conroy is 1-0 in five appearances with a 0.00 Earned Run Average. In his six innings of work, he's struck out five hitters, walked just one, and allowed two hits. Conroy leads the Pacific Association in saves with three, and is striking out more than seven hitters per nine innings pitched. When opposing hitters do put the ball in play against Conroy, they're batting a meager .125.

"I've always played baseball because it was fun and I loved the sport," Conroy said. "Being gay doesn't change anything about the way I play or interact with teammates."

"I hope that in leading by example, more LGBT youth will feel confident to pursue their dreams, whatever those dreams may be."
Conroy graduated earlier this year from Rensselaer Polytechnic Institute (RPI) in New York, where he was named Liberty League Pitcher of the Year and led the team to the NCAA Tournament. From RPI's release about Conroy's historic upcoming professional start:
Conroy (Clifton Park, NY / Shenendehowa), a righthanded starter for the Engineers, went 6-2 with a 1.87 earned run average in 15 apperances (12 starts) for RPI this season, leading the team to the NCAA Tournament. Recording a save, he allowed 27 runs (17 earned) on 67 hits in a career-high 82.0 innings, striking out 87, while walking 21. The D3baseball.com Second Team All-America selection held opponents to just a .223 batting average. He struck out six or more batters in seven starts, including a career-high 16 on April 12 against Bard College.

The Liberty League Pitcher of the Year, Conroy was 5-0 with a 1.48 ERA in six conference starts, allowing 10 runs (7 earned) on 35 hits in 42.2 innings. Also an ABCA/Rawlings First Team All-New York Region selection, he struck out 50 batters, with 10 walks and gave up a .220 opponent average.

In 52 career appearances (33 starts) at Rensselaer, Conroy went 21-7 with a school-record 2.05 earned run average. He allowed 86 runs (59 earned) on 211 hits in 259 innings, striking out 223 and walking 49. Opponents hit .220 lifetime off of him.

Conroy helped RPI to a 29-17 record this season, including an 18-6 mark and a first place finish in the Liberty League. The Engineers captured the tournament title and the automatic bid into the NCAA Tournament. At the New York Regional, the Engineers opened with a pair of wins before falling to nationally first-ranked SUNY Cortland. The team won an elimination game over Oberlin College to make the championship round, before being knocked out by Red Dragon, who went on to win the 2015 National Championship.
Glenn Burke, who played in the big leagues, is believed to be the first gay pro baseball player to come out to his teammates and owners in the 1970s. However, Burke didn't come out publicly until after he retired.
h/t: OutSports